How to tell tales 3: Painting pictures with words
29 October 2009
Add to My Folder
In this third part of our How to tell tales series, by Literacy Time PLUS Writer-in-residence, Antony Lishak, we focus on descriptive writing and how to use it to make your story writing more interesting.
These teachers' notes refer to the guided reading leaflet, 'How to tell tales 3'.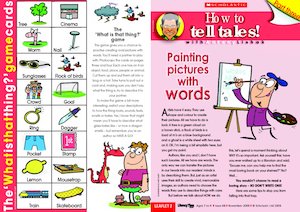 Here Antony suggests some ways to introduce and follow up the reading of the leaflet with your class.
Before reading
As in most aspects of storytelling, when looking at description it's useful for children to see the link between verbal and written language. Stress that the immediacy of speech provides a greater incentive to use descriptive language – because you are aware of the effect your words have on your listener straight away. Writing, by its very nature, is more detached – so it's important to remind children that they are not just filling up blank sheets of paper with ink and that someone else is going to read their words. (Their target audience.)
Sentence modelling
Show how descriptive language can affect the impact of a sentence by demonstrating what happens when you add and remove certain words from the same sentence. Read out this sentence: Yesterday, I visited my friend and we played games together and had tea. Ask the children how successfully the sentence creates a picture in their minds. What do we know after hearing it? (Yesterday, two friends played and ate together.) What don't we know? (Who they were, what they played, what they ate, what the weather was like, what they were wearing, etc.)
Then get them to suggest descriptions that might make the picture more vivid. Try to tease out as many ideas as you can so that you end up with loads of descriptions – eg: Yesterday, I visited my best friend Linda who has blonde hair and blue eyes and we went into her huge green garden to play on the blue trampoline she got for her birthday until her mum called us in for tea where we had crunchy biscuits, creamy cake and tasty orange juice while her hairy, smelly, spotty dog licked up the crumbs on the cold wooden floor… You get the idea.
About the author
Read Antony's online blog at literacytimeauthor.blogspot.com or visit www.antonylishak.com to find out about his books and school visits.
The How to tell tales series
(July 09): Characterisation.
(September 09): Grabbing your reader's attention on the very first line.
(November 09): Painting pictures with words – descriptive writing.
Coming up online:
The pivotal moment of a story.
Playing with time – sequencing.
The redrafting process – the story of the story.
Using this monster of a sentence, discuss whether you can have too much description. Would a sentence brimming with description like this create a clear picture? Then set about choosing what descriptions are most appropriate, until you are left with a sentence that feels right – eg, Yesterday, I visited my best friend Linda. We played on the blue trampoline in her garden and afterwards we had a really tasty tea.
Finish by making the point that, although you can underdo and overdo descriptive language, 'getting it right' is a subjective thing. No one sentence will feel right to everyone. Authors try to create the best sentences they can, but it doesn't mean that their words will evoke the same picture all their readers' minds. Successful literature is down to personal taste: that's what makes it so special.
Literacy Framework
See the Using this issue chart for ages 7 to 9 here and for ages 9 to 11 here to identify the Learning Objectives covered by these activities, to track progression from Year 2 through to Year 7, and to identify links with Year 3/4 and Year 5/6 Planning Units.
Reading the leaflet
Give the children time to read through the leaflet, supporting them if necessary.
Let different groups/individuals play 'The Emotions Game' and the 'What is that something?' game then feedback to the rest of the group or class.
Author's note
You may have noticed that nowhere (until now), have I mentioned adjectives, adverbs, similes or metaphors. This is not because these terms are not important, but it is to stress that the primary motivation for using descriptive language is to try to make the reading experience as enjoyable and gripping as possible. There is a danger of concentrating on explaining the meaning of grammatical terms at the expense of overlooking their purpose. It's rather like giving someone a shiny new tool kit and not allowing them to actually use it. I once observed a teacher reading a tremendously evocative passage from Dickens' Bleak House and then asking the class to count the adjectives and 'wow' words. The answer to that literacy lesson turned out to be 17. It was then that I decided that 'wow' stands for why-oh-why!