Discover how a large nursery with 126 children on roll manages to offer outstanding provision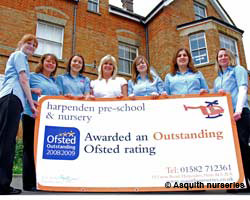 Harpenden Pre-school and Nursery became the sixth nursery in the Asquith group to receive an 'Outstanding' report from Ofsted earlier this year. When manager, Sandra Harvey, heard the news, her first reaction was to say, 'OK, what are we going to do now? How can we make it better?'.
'That's what makes them outstanding,' says Poppy Ellis, Asquith's care and education manager. 'Sandra and her team are driven and focused on what they want to achieve. Whenever I visit, they always have questions for me, and when I give advice, they always react in a positive way.'
Sandra admits that the inspectors' verdict was a relief. 'On their last visit, they said that we were satisfactory, but that was three years ago, only six months after we had opened. It wasn't a true reflection of where we are now. Of course, I'm delighted and proud of what we have achieved, but it doesn't mean we can relax!'
Harpenden Pre-school and Nursery is run from a converted house. Sandra took on the role of manager three years ago when it first opened and had two rooms with eight staff. There are now seven rooms, 33 staff and 126 children on roll, 84 at any one time.
'I knew my staff would be valuable,' explains Sandra. 'My priority was to nurture and develop a team who would help me to take things forward.'
One of the first things that Sandra did as the setting started to grow was to appoint room supervisors. 'With staff in three different buildings, communication is really important,' she says. They meet every week to share information and good practice.
Sandra encourages the staff to be reflective. 'This means that we're looking all the time at what we need to work on. I give the staff in each room areas to research and improve. Topics at the moment include using the outdoor area, the changing area, inclusion and heuristic play. They go away and find out as much as they can, give feedback to their room supervisor and we discuss their findings when we come together at our weekly meetings.'
Ofsted praised this innovative system for supporting professional development. 'This emphasis on continuing evaluation and development impacts positively on the outcomes for children,' says the report.
Harpenden is one of 86 nurseries in the Asquith chain, but although they share policies and procedures, there is room for individuality, for example, topics are no longer centrally planned.
'This nursery is different to the one down the road,' explains Poppy, whose job it is to visit settings, offering advice and support. 'They each have the freedom to work in a way that is appropriate for their setting, their staff, their children and their parents.
'We do have a philosophy that we ask staff to buy into,' continues Poppy. 'It is a simple one and it fits beautifully with the Early Years Foundation Stage (EYFS) framework – children must be at the centre of everything we do.
'So the EYFS wasn't a big change for us – planning for individuals was already there. The staff observe the children and plan activities accordingly. They also take into account the children's personalities and their preferences for members of staff when allocating key workers.
'It has taken time, but the children at Harpenden now have the confidence to lead their own learning, and staff know how to respond, tapping into individual interests so that the children don't lose the drive to learn. It's about knowing the individual and not being afraid to know what is best for that child,' says Poppy.
Sandra believes that staff development is the key. 'We don't have a high turnover of staff. Most of our staff have worked here for a long time,' she says. 'So they really get to know the children and their parents, and the parents feel they get to know them.'
The EYFS has encouraged everyone to look more closely at their partnership with parents. Staff exchange information with parents daily. Parents receive termly updates on their children's development in the six Areas of Learning and Development, and are encouraged to give their own views. In this way, the staff are able to improve their support for individual children.
They hold open days four times a year, on weekdays and Saturdays. 'Most parents come and it gives everyone time to relax and get to know each other,' says Sandra.
One change they have introduced is to work with fewer children at group times – only five or eight instead of 20. 'It makes the key person more accessible and there is a better chance for the children to get to know each other and express themselves', says Sandra. Harpenden began following the EYFS in January 2008 and the staff prefer the new framework. They have found that it gives them support and ideas, encouraging them to develop different parts of their practice, particularly inclusion.
'It has led to more focus on individuality throughout the Asquith group,' says Poppy. 'We realised we couldn't have a "one-size-fits-all" approach because different settings serve different communities.
'Harpenden Pre-school and Nursery has children with a variety of beliefs and values, and they have learned to embrace that. They invite parents to come in and talk about what festivals they celebrate and an area of the room is dedicated to making cards all year round – not just at Christmas.'
Asquith has provided a lot of training on the new EYFS framework. For example, to explore the importance of an Enabling Environment, Poppy rearranged a whole room and explained what she was doing and why.
'The team at Harpenden always listen, then challenge me and we have a discussion about it,' says Poppy. 'They have developed their understanding, and their confidence, and they can take pride in what they have achieved.'
Poppy hopes that other nurseries in the Asquith group can benefit from Harpenden's success, and has already arranged a number of visits for staff so that they can learn from each other.