This poster features a biography of Desmond Tutu – 'Champion of the disposed; upholder of truth and justice'. Tutu is a man of the cloth who is a charismatic role model. He won the Nobel Peace Prize in 1984, was Chairman of the Truth and Reconciliation Commission, holds tremendous influence in the developing South Africa and is an acclaimed figure on the world stage.
Facts about his life are presented in clearly organised sections. You may find it helpful to provide a summary of the recent social and political history of South Africa before using the text.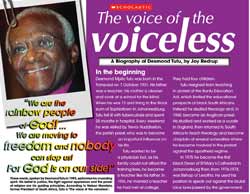 Shared learning and teaching
Before reading
Look at the layout. Are the subtitles useful? Is the paragraph order effective?
Discuss the text features and decide the differences between biographical and autobiographical writing.
Discuss what the children know already about Tutu then write ten questions, using different question types, to identify what else they would like to find out.
Shared reading
Skim read the poster. How useful is it? Comment on the language/note main points. Discuss techniques to make note-taking quicker and more effective.
Why does a quotation introduce the text? What does it tell us about Tutu? Why has the author chosen to do this?
The rest of the text is in chronological order. Why is this necessary for a biographical text? Look at the way the paragraphs are sequenced. Is it helpful?
Note how quotations are punctuated.
Identify the tone. Highlight persuasive language and analyse its effect – eg, 'His belief in justice… his guiding principles.'
Highlight complex sentences and note how commas separate clauses – eg, 'Every weekend he was visited by Trevor Huddleston, the parish priest, who was to become an important influence in his life.' What effect does the mixture of simple, compound and complex sentences have?
Group and independent work
Ideas for writing
Research/write a biography of Trevor Huddleston. What is his view of Desmond Tutu?
Tutu is renowned for his fluent speech and dramatic quotations. Look up some of his quotes and write a commentary about their meaning and effectiveness.
Write a letter from Tutu's mother, wife, children or Nelson Mandela, revealing their views of Tutu and how they feel about his life and fight against injustice.
'Apartheid means murder', 'Free Nelson Mandela' and 'Death to apartheid' are all slogans that have been used in marches against oppression in South Africa. Write some slogans against topical injustices that you feel strongly about, using strong, pithy language and punctuation which will make your views clear and be memorable.
Literacy Framework
See the Using this issue chart here to identify the Learning Objectives covered by these activities, to track progression from Year 4 through to Year 7, and to identify links with Year 5 and 6 Planning Units.
Using the activity sheet
Individually – How many of these challenges can you complete (perhaps as a holiday project). Colour in each box as you complete each task. Groups – Cut up/shuffle the cards. Draw a card each. Complete this challenge then evaluate with your group.
Speaking and listening
Ask each child/group to decide which topical/historical figure they think is the most important in world history. They must research this person and present a spoken argument, defending views.
Hot seat the role of Desmond Tutu. Use different question types to tease out facts/opinions not included in the text.
Listen to some of Tutu's speeches (several available on YouTube) or speeches by other famous people like Martin Luther King or Churchill. Make notes on themes, content and impact.
Plenary
Comment on information gleaned from your hot-seating and research.
Invite children to read out their favourite Tutu quotation. Why did they like it?
Analyse the impact of the written slogans against oppression.
Read out the letters to Tutu. Comment on structure, language, facts, emotions.