Add sparkle to your Christmas play with a lively resource that combines song with British Sign Language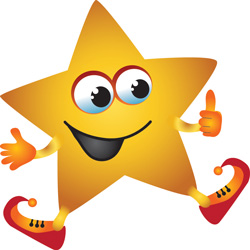 Image © Sausage Dog Publishing Ltd
Combining song with movement is an ideal way to engage learning and boost memory skills. We all remember at least one action song from our younger days; putting our left leg in and shaking it all about or pulling down on each of our ear lobes. Some action songs go even further than these simple body gestures by combining lyrics with sign language. While this means that deaf and partially hearing children can participate more easily with these kinds of music activities, all children will enjoy the lively nature of the songs.
A nativity with a difference
With Christmas around the corner, you've probably started to think ahead to your annual festive school or class performance. While there are lots of drama resources around, The Shining, Signing Star (Sausage Dog Publishing Ltd, £19.99 plus p&p) is a wonderful alternative to a traditional nativity musical, written by award-winning children's author Garry Slack and the Ivor Novello award-winning composer Paul K Joyce (writer of the number-one Bob the Builder hit 'Can We Fix It?'). This exciting and innovative play uses both spoken English and sign language, taken directly from British Sign Language, to produce a charming Christmas show to be enjoyed by performers and audiences alike. Telling the story of the nativity in rhyme, from the perspective of the animals and the stars who were at the very first Christmas, The Shining, Signing Star performance pack includes a music CD (including three specially written signed songs), sheet music, the play script, signed video clips and lots of top tips to help your performance shine. Although originally designed for Key Stage 2 children, only key words in the songs use sign language and so the resource is also suitable for Key Stage 1.
Online extras!
To accompany this article, don't forget we've got two free song samples – Follow the Donkey and See the Golden Signing Star with accompanying activity sheets featuring lyrics and sign language demonstrations.
Activities
1. Music-friendly masks
Invite children to design and make animal masks to wear as they perform one or more of the tracks from The Shining, Signing Star. Explain that because they will be singing through their masks, it is important that the masks don't cover their whole face. Discuss how this could be achieved by designing headband or hood-style masks.
Ask the children to explore different fabrics and materials and think about what materials best represent a particular animal, for example, felt for a rabbit or foil for a fish. How do these materials feel? What qualities do they convey?
Animal ears can easily be made and attached to headbands by creating small folds at the bottom of cardboard ears and attaching these directly to the headband. Animal noses can be threaded through elastic or ribbon and worn around children's faces.
2. Star light, star bright
As a whole class, think about words that the children associate with stars. Suggestions might include sparkly, glow, pointy, bright, dazzling, shine, hope, guide, symbol, magic, and so on.
Using these words as inspiration, invite the children to make their own 'Shining, Signing' stars. These could be used as part of a Christmas or winter display, or as props/scenery for your performance of The Shining, Signing Star. Ask the children to create their own star using a wide selection of sparkly materials (foil, shiny paper, sequins, glitter, fabric, and so on). Templates could be provided for younger children to decorate, while older and more confident children can choose their own star shape to draw.
Once stars are finished, ask the children to choose one word from the class word bank on stars, to add to the centre of their star.
3. Present time
Introduce or recap on the story of the nativity. Talk about how the Three Wise Men brought the baby Jesus special gifts of gold, frankincense and myrrh. Show the children examples or images of these items and explain that in the time of Jesus, these were all very precious gifts.
In The Shining, Signing Star, the forest, countryside and sea animals that visit the baby Jesus don't bring him a present, they sing for him instead. However, ask the children to imagine that had the animals brought Jesus a present, what might they have given him? Encourage the children to think of where the different animals might have come from and what special gifts they could bring from their homes? For example, sea animals could give precious shells, pearls or sunken treasure; countryside animals could give wheat or corn and forest animals could give fruits or exotic flowers.
Next, ask the children to compose poems or short stories about one of the animal's gift to Jesus, for example, a poem about a monkey giving Jesus a bunch of bananas, or a crab giving some sunken treasure found at the bottom of the seabed.
4. Animal action
There are lots of other songs that children will be familiar with that use actions. Ask the children what actions songs they know. Suggestions might include: 'Do your ears hang low?', 'Incy Wincy Spider', 'The Grand Old Duke of York', and so on. Invite children to sing these songs as a whole class, joining in with the actions in all the right places.
Extend the above activity by asking volunteers to take it in turns to perform a simple action from a nursery rhyme and then challenging the rest of the group/class to guess that nursery rhyme. Similar to the game of 'Charades', encourage children to only use actions (no words or sound effects).
Once children have practised using actions to convey words, play a piece of music and ask children to move around a wide space in character, as a forest animal, a countryside animal or a sea animal. Encourage the children to think about whether their animal would walk on all fours, slither, glide, hop, scurry, swing or trot.
The Shining Signing Star (Sausage Dog Publishing Ltd, £19.99 plus p&p) is available to buy from www.signwitholli.com
We have five copies of The Shining Signing Star to giveaway! Visit our giveaways section for your chance to win this fantastic prize.