Promote safety awareness during Road Safety Week 2009 with this fun programme of activities and games
It is estimated that a child is killed or seriously injured on roads in the UK every 18 minutes. With the Government aiming to reduce this figure significantly by 2010, Road Safety Week (23-29 November 2009) is an ideal time to plan activities to encourage road safety awareness. So, why not try out the following ideas based on activities that we developed at Holywell First School in Northumberland? We also invited our local Road Safety Officer into school to talk to our Reception and Year 1 children. They arrived with free badges, stickers, posters and books, making assembly very popular that week!
Learning objectives
Children need to know:
what traffic is and that there are many types of traffic
that traffic can be dangerous
that they should walk on the side of the pavement away from traffic
what 'stop, look and listen' means
that they should hold hands with their carer when crossing the road and should not attempt to cross a road alone
that it is important to be visible to other road users
that wearing bright clothing (daytime) and reflective clothing (at night) will make them more visible to road users and so help keep them safe
that they must always use a child seat/booster when travelling in a vehicle
the area around their school and the location of pedestrian crossings.
Activities
1. Road safety frieze
You will need: Books/DVDs showing road traffic; paint; paintbrushes and paper.
What to do
Begin by discussing with the class what traffic is and who uses our roads. Talk about the different types of vehicles and their uses. Invite the children to paint pictures of different vehicles and other things that we see on the roads, for example traffic lights, Pelican crossings and so on. Use the children's artwork to create a vibrant road safety wall frieze.
2. Reflective materials
You will need: Reflective badges/armbands/clothing; a torch and a dark room (we blacked out the staffroom windows).
What to do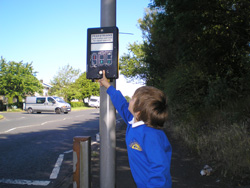 As a class, discuss the importance of being visible to drivers on the road. Ask the children how they can make themselves more visible as pedestrians, for example by wearing bright clothing during the day and reflective clothing during the evening. In a dark room, use a torch to investigate which reflective materials show up best.
3. Traffic-light game
You will need: Red, amber and green circles of card.
What to do
Take the class into the playground and invite the children to take turns to be a traffic light, using the red, amber and green circles. Teach them how to hold up the circles in sequence (red, red and amber, green, amber, red) and ask the other children to respond accordingly (red – stop; red and amber – get ready for green, but don't go; green – go; amber – stop and get ready for red.) The children may need support with this as it is quite a challenging game!
Download two fun "road safety songs" to help raise safety awareness!
4. Road safety posters
You will need: Paper or card and felt-tipped pens.
What to do
Challenge the class to think of road safety slogans. Make a list of ideas then ask the children to use their favourite slogan to create an eye-catching road safety poster. Laminate and display the posters next to the class road safety frieze (see activity 1).
5. Pelican crossing
What to do
Visit some local Pelican crossings in your town or village and demonstrate using them to cross the road safely. Discuss the sequence of traffic lights and the significance of the red man and the green man. Remind children of the importance of always crossing with an adult and never attempting to cross alone.
6. Traffic-light biscuits
You will need: 225 g butter; 125 g caster sugar; 225 g plain flour; 125 g semolina; tubes of red, yellow and green icing; wooden spoon; bowl; rolling pin; knife; baking tray; aprons.
What to do
Make the biscuit dough by creaming the butter and sugar, then mixing in the flour, semolina and salt. Roll the dough out and cut into rectangles before being baking them at 180 degrees C/Gas Mark 4 for 10-15 minutes. Once cooked and cooled, invite children to ice the biscuits using traffic light colours.
7. Bikes and scooters
You will need: Chalk; laminated road signs; bikes; scooters (the children brought these from home).
What to do
Use coloured chalk to mark out roads and a zebra crossing on your school playground. Role play how to use a zebra crossing if you are on a bike or scooter (get off the bike or scooter and walk across). Invite individual children to act as a crossing patrol officer. Remind the children that while a zebra crossing is a good place to cross the road, traffic does not always stop so they must still look and listen, and cross only when it is safe to do so.
Plenary
Discuss what the children have learned about road safety and ask how they could be safer on the roads. You could give the children 'road safety certificates' for completing the activities.