Introduce a fun and physical way of teaching maths in schools – a wonderful way to bring the numeracy curriculum alive!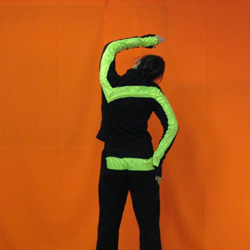 Photograph © Dance Equation
Dance Equation is a pioneering Dance Company that has been researching the collaboration of maths and dance for more than seven years. The company works with dancers, teachers and children to research ways of bringing the numeracy curriculum alive through dance and theatre, promoting creative learning and encouraging everyone to be active. In this article, Rebecca Hart, Director of Dance Equation, shares the advantages of this innovative approach to maths, and provides a taster of some of Dance Equation's activities. You will find details of their fantastic workshops at the end of this article.
'I've found that combining dance and maths is a great way for children to reinforce mathematical concepts through kinaesthetic learning. Mathematical concepts are also a fantastic stimulus for creating movement,' explains Rebecca.
'As a choreographer, I love experimenting with pattern, space, structure and time, and find similar satisfaction when investigating something maths. I've found this especially useful in schools, as a way of making maths creative, fun and physical. Research from an independent specialist suggests that using bodies to explore mathematical concepts helps children to learn in various ways. They:
experience the concepts with their whole bodies and imaginations without language, which gives them another level of understanding;
experiment and play with concepts, which helps to consolidate learning;
work together in the dance session, allowing them to learn concepts collaboratively and contribute to problem solving and creativity.
Workshops on tour
During the autumn term (2009), Dance Equation is touring three Key Stage specific performances that can be held in the convenience of your school and to suit your timetable. Performances are specifically tailored to infant, primary and special school audiences. Academic input for the performances is drawn from teachers, and research has been conducted through Dance Equation workshops and Creative Partnership projects to ensure content is pitched at an appropriate level to suit relevant year groups. Numeracy themes covered include: counting, fractions, place-value, partitioning, greater than and less than, multiply and divide, number bonds, shape, inverse, coordinates, transformations, loci, straight line graphs, algebra, and many more. Problem solving, communication and reasoning are also an integral part of all workshops as children try different approaches to investigate and solve problems. The stimulating and fun performances use movement, voice and music, combined with visually stimulating costumes.
Workshops can be one-off intensive events or adapted for a large-scale performance project, and Dance Equation provide full props, music and resources. After the workshop, schools can also receive a printed outline of the content, including cross-curricular links. As well as workshops and performances in school time, Dance Equation lead CPD sessions for teaching staff, dance clubs, 'parent-child' and holiday activities. (All workshop leaders are professional dancers, experienced at leading workshops. They have their own public liability insurance and CRB checks.)
For further details, and to book a Dance Equation workshop in your school, visit www.dance-equation.co.uk, email info@dance-equation.co.uk: info@dance-equation.co.uk or call 0115 846 9060.
Maths + movement = fun
Dance Equation continues to be a triumph in primary schools around the UK. Rebecca shares one such success story, where introducing dance in maths has had a positive effect in boosting maths skills. 'With support and funding from Creative Partnerships, Dance Equation worked with Reception and Year 1 at Carsic Primary School, Sutton-in-Ashfield, to embed a kinaesthetic and creative approach to teaching and learning maths. The aim of the project was to increase the achievement, confidence and enjoyment in learning maths for a purpose – to dance it! Every session was very physical, and as well as the classroom, we used many different spaces around the school. We worked closely with teachers and teaching assistants to develop their skills and confidence to work in this way. It enabled the continuity and development of Dance Equation into other blocks of the numeracy framework once we had left the school. Dancing about numbers became infectious around the school, and the children were spotted creating mathematical dance during break and lunch times.'
Activities
Dance Equation has a bank of lessons and ideas for teaching maths and dance together. Although Rebecca recommends a Dance Equation workshop is delivered by a professional dancer from the company, below are a few simple ideas from Dance Equation to give you a taste of the possibilities of dancing about maths.
1. Number of body parts
Warm up: Ask the children to demonstrate a different numbers of body parts touching the floor, for example they could: balance on one foot and two hands – this equals three body parts touching the floor; balance on one knee, one foot, two elbows and their forehead – this equals five body parts touching the floor.
Activity: Play a piece of music and ask the children to walk around the space in any direction (making sure they are aware of others in the room). Explain to the children that when the music stops, you will call out a number and they must put this number of body parts on the floor. The children should balance in this shape while you go around to check they have the correct number of body parts touching the floor. During the activity, congratulate them for creating such interesting shapes. Repeat the activity, calling out a different number (of body parts) each time.
Extension 1: Instead of just walking to the music, ask the children to perform different actions, for example hopping, skipping, turning, rolling, jumping, and so on. Alternatively, you could ask them to move around like a robot, like jelly, like a frog, and so on.
Extension 2: Ask the children to work with a partner. When you ask them to balance on a number of body parts, it needs to be between them. For example, if you call out Five body parts, child one could balance on one foot and two hands, and child two could balance on one foot and one hand, so they are balancing on five body parts altogether.
2. Body digits
Ask the children to try and create the shape of numbers with their bodies. They could try to make their age or their house number, or you could ask them to solve simple sums and provide the answer by shaping their bodies.
3. Guess my number
This activity would work well as a cool down and could be done slowly to relaxing music to create a calm mood. Ask the children to sit on the floor with a partner, one in front of the other. Number the children 'one' and 'two' and tell child one to gently trace a number on the back of child two. Child two should try to guess the number being traced on their back. Tell the children to swap roles afterwards. Did the children guess the numbers correctly?