Tackle the tricky concept of light and dark with these fascinating and inventive activities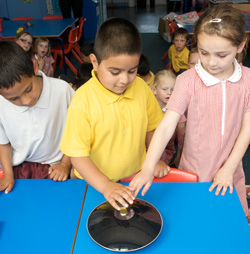 Children discover the wonder of a mirage where light can make things appear magic!
Teaching about light can be difficult, not least because many light activities demand darkness, or low light levels, and because children have so many preconceptions about how light works. As children seldom experience total darkness, they may have trouble understanding basic concepts. It is important to remember that the eye is a receptor of light, not a source of it, and we can see because light is reflected from everything to a greater or lesser extent (best from mirrors, shiny and white surfaces; poorly from black and dark surfaces).
Science educational resource provider, Philip Harris, partnered up with Year 1 and 2 teacher, Helen Woolfenden at Holden Clough Community Primary School in Ashton-under-Lyne, to showcase a selection of experiments aimed at helping children to explore light and dark. The following activities use a range of resources available from Philip Harris that will help make this topic lots of fun.
Activities
1. Reflection challenge
Aim: To explore mirrors as reflectors and not as sources of light.
Resources: Plastic mirrors and Blu-Tack®.
Activity case study
Each member of the class was given a plastic mirror and asked to cautiously walk around the classroom using their mirror to look around corners. Helen then told them to pick up two small classroom objects, sit back at their desks and explore the symmetry of those shapes. She then asked them to consider where they should place their mirror in order to see the complete object.
Next, the children secured their mirrors upright using Blu-Tack® and looked into them while writing 'ANNA' to see the symmetry.
Helen's verdict
'Using the mirrors in this manner helped the children's growing understanding that mirrors are not sources of light but that they reflect light.'
2. Kaleidoscope wonder
Aim: To engage children's sense of wonder and intrigue at the way mirrors work.
Resources: Kaleidoscopes; plastic mirrors and adhesive tape or large triangle mirrors.
Activity case study
The class were put into pairs, given kaleidoscopes and asked to describe what they saw. Helen walked around, listening to their descriptions. She then showed the children that they could make their own kaleidoscope by taping three plastic mirrors together to make a triangular box and putting small objects inside.
Helen's verdict
'This brief activity created a real sense of wonder and curiosity at the different patterns that can be made using mirrors.'
3. Magic mirage
Aim: To speculate about and discuss the mirage effect.
Resources: Mirage and pound coins.
Activity case study
The children were asked to gather around a desk with the mirage on it and one of the children placed a £1 coin inside it. Each member of the class then tried to touch what seemed to be the pound coin but found that it wasn't there! The children were encouraged to discuss what they thought about what they saw and why this was the case.
Helen's verdict
'This was wonderful for children's imagination and fascination. The class found the time spent speculating about and discussing the illusion very enjoyable. That there was no obvious explanation left them talking about it well after the lesson was over.'
4. Light sources
Aims: To notice and compare the different range of light sources; to experience shadows as objects that block light.
Resources: Range of safe light sources (secured and supervised candles, different-sized torches); plastic mirrors.
Activity case study
All the science resources featured in this article can be found in the latest Philip Harris catalogue. To request a copy, please call 0845 120 4520 or visit www.philipharris.co.uk
Read previous articles in this series including Ourselves and Pushes and pulls Plus, look out for 'Electricity' in our Dec '09 issue.
Helen asked the class to sit in groups of four and they were given a small torch, a large torch and a plastic mirror. She drew the curtains and switched off the lights, creating a low light. Using the different light sources, the groups were then asked to compare how the amount of light they reflected. They did this by shining their torches or mirrors on to different objects in the classroom. Once this was completed, Helen asked the class to gather around the front desk and watch as she lighted a selection of different-sized candles and to observe the differences, if any. The children watched as Helen experimented and cast shadows – areas where the beams of light were stopped by an opaque object. The children were asked to consider whether they would rather use a torch, candle or mirror to find something in a dark store cupboard.
Helen's verdict
'The children found this investigation really exciting and it helped their recognition and initial understanding of light sources and reflectors – realising that light travels and that our eyes are receivers. They were also intrigued by the formation of shadows.'