This month, children's author and poet, Brenda Williams, reviews some of the latest children's books with a seasonal theme
Trixie the Witch's Cat by Nick Butterworth (Puffin, £10.99)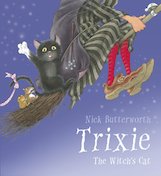 Trixie the cat tries everything she can to make her one white paw black to match the rest, but when she finally succeeds, she realises she has lost part of her identity.
This book is full of beautiful, big illustrations that are perfect for sharing with groups of children, who will enjoy looking at the wonderful details in the pictures. In particular, the antics of two extra characters, a rat and a frog, who are not mentioned in the story but who appear on many pages, will enthral young readers. The delightful facial expressions and body language of Trixie will fill children with a range of emotions – anger, joy, revulsion, sadness and happiness. The book's large, clear text and short, simple sentences make it ideal to read alone, or in small groups.
Suitable for: boys/girls/4-5/6-7/reading aloud
The Best Gift of All by Jonathan Emmett (Walker Books, £5.99)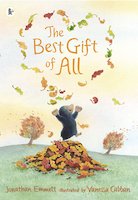 Three animal friends decide to visit Rabbit, who is not well. Squirrel brings Rabbit some nuts and Hedgehog brings fresh leaves for a bed. But, what can Mole give her?
The lovely autumnal feel of this book, with its colourful leaves, makes it a great introduction to an autumn topic. The delightful illustrations of tree roots and tunnels also open the way for plenty of discussion with children about what happens underground, and the animals that live there. The intrinsic messages in the story illustrate the rewards of friendship, working together, and caring for others, and the clear, simple text with many high-frequency words will encourage young readers to read alone.
Suitable for: boys/girls/4-5/reading aloud/reluctant readers
The Everyday Witch by Liz Martinez and Mark Beech (Bloomsbury, £5.99)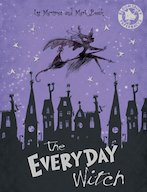 The Everyday Witch is a lovely fun book about a little boy called Jimmy who suspects that his mum is a witch. Written in rhyming text, the story has a good flow and regular beat for children to follow. This is a book that can be shared with all children. Reluctant or less able readers will enjoy looking at the superb detail in the illustrations, and spotting the characters with witch-like faces, including the goldfish! Text is written as short descriptive messages (such as cup of tea with an arrow pointing to the actual object) and the language is natural, but sufficiently challenging in parts to keep the attention of more able readers. The pull-out witchy stickers at the back of the book could be mounted on cards and used to test children's visual perception skills with a game of 'hunt the picture'.
Suitable for: boys/girls/4-5/6-7/reading aloud
Spells by Emily Gravett (Macmillan, £5.99)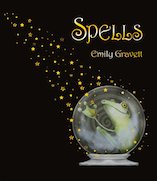 A lonely frog finds a book about spells, and sets out to turn himself into a handsome prince. Children will find the black background and intriguing illustrations, featuring black and white cut-outs from scraps of paper, a fascinating change from the style of more conventional picture books. The first part of the book is a simple enough, with easy to follow text, but the second half features horizontally split pages that children need to turn to find the correct character and its initial letter. At this point, the text suddenly changes from lower case to capital letters (perhaps not helpful for early readers). This is an interesting book that offers reluctant readers practice in identifying initial letters, and capital letters. Its quirky ending might also encourage more able children to take up the story where it leaves off.
Suitable for: boys/girls/6-7/reading aloud/reluctant readers/more able readers
On a Dark Dark Night by Simon Prescott (Little Tiger Press, £10.99)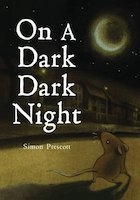 If you want to introduce a shiver of fear into your story-telling session – this is the book for you! Simple, repetitive text follows a little mouse on a journey through the night. Though a seemingly sombrely illustrated book, there is nevertheless, plenty of detail in the illustrations for children to think about.
Once familiar, this book could lead to much thought and discussion about the sequence of the journey, with plenty of 'And then where did he go?' statements that children will enjoy, right through to 'And what did he find?'
I think children would also enjoy looking at this book alone, or in pairs, interpreting the pictures or reading the text, but it could be a bit scary for some! This would be a useful book for topics on night time or dark and light.
Suitable for: boys/girls/5-6/reading aloud
About our reviewer
Brenda Williams, a former teacher, has contributed to many well-known children's poetry anthologies, and has written poems, stories, articles and resources for Scholastic magazines for more than ten years. Brenda has also written Fun with Action Rhymes and Poems (Brilliant Publications) and Home for a Tiger, Home for a Bear (Barefoot Books). More recent publications include the wonderful The Real Princess – a new slant on a classic story that takes children on a 'mathemagical' hunt for a princess and Lin Yi's Lantern (both Barefoot Books). Lin Yi's Lantern, beautifully illustrated by Benjamin Lacombe, was launched at the 2009 Edinburgh International Book Festival and centres around the Chinese Moon Festival (which fell on 3 October this year) – an ideal book to support work on autumn festivals, legends, and other cultures.
The Bear's Winter House by John Yeoman and Quentin Blake (Anderson Press, £5.99)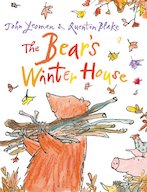 John Yeoman's story about a bear and his animal friends will hold the attention of the most fidgety child, as bear builds himself a cosy winter home, only to have his rest disturbed by the antics of the other animals seeking shelter. Quentin Blake's illustrations are, as ever, delightful and full of lovable characters.
The text is easy to follow, with short sentences, high frequency words and a charming sequence of events. This would make an excellent starter to a topic on animal homes in winter focusing on structures and suitability. Linked activities could also focus on the weather, colours or seasons. Reluctant readers will enjoy re-reading this book alone by following the closely-related illustrations to the text, while more able readers will soon romp away with it.
Suitable for: boys/girls/6-7/reading aloud/more able readers
Jack Frost by Kazuno Kohara (Macmillan £10.99)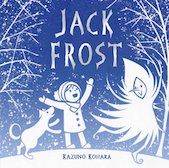 A simple but engaging story about a little boy who makes friends with Jack Frost. A magical change from a dark, sad beginning of dreary pages lights up the illustrations of pure white and blue that would be perfect to copy for a delightful display of children's wintry pictures. There's plenty of inspiration for artwork, too such as snowflake cut-outs, Jack Frost patterns and leafless tree outlines. Children should also readily enjoy discussing the variety of wintry pastimes mentioned in the story, such as ice-skating, sledging, snow-balling and making snowmen. The text is easy, with plenty of high frequency words, and in parts, lots of lovely repetition. This book is particularly ideal for early readers, reluctant readers and guided reading groups.
Suitable for: boys/girls/6-7/reading aloud/reluctant readers/more able readers
The Orchard Book of Magical Tales by Margaret Mayo and Jane Ray (Orchard Books, £8.99)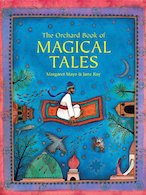 Everything you could hope for from a book of this title! Delightful, traditional stories from many different cultures, and beautifully illustrated with wonderful characters. Each story is just the right length to read one per day, but you could also discuss several stories in order to compare the different characters and styles throughout the book. The story of The Halloween Witches, in particular, is ideal for this time of year. The language is not too difficult for even younger children to follow as part of a story-telling session, and some stories abound with the inherent repetition expected in such tales.
Wonderful, imaginative stories, full of magic, trickery, good deeds and just rewards – just as fairytales should be!
Suitable for: boys/girls/6-7/reading aloud/reluctant readers/more able readers