Activities to help children stay safe on the roads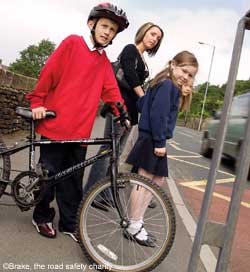 Shockingly, every ten minutes, a child or young person is killed or injured on UK roads. You can help stop appalling deaths and injuries by giving children the knowledge, skills and attitudes to keep them safe when they're out and about on the roads. And, Road Safety Week, which runs from 23 to 29 November, is a great time to start.
As it affects their everyday lives, road safety is a topic that many children feel strongly about and will enjoy exploring. Here are some activity ideas from Brake, the road safety charity that coordinates Road Safety Week.
Sensitivity issues
Before teaching road safety, check whether any children have been bereaved or hurt in a serious road crash, or witnessed one. Talk to them and their carers privately about how best to support them. Some children may wish to talk about their experiences with their classmates; others may prefer not to be present in lessons that discuss death or injury. Brake's division, BrakeCare, has developed resources for teachers working with children bereaved by road crashes. Call the BrakeCare helpline on 0845 603 8570 for information.

Don't forget to use Activity sheet, 'Pause for thought: Road safety' that features talking prompts on this important issue.
Activities
1. Language and knowledge
Develop children's use of vocabulary to describe and discuss road safety issues, such as: traffic, pavement, crash, collision, dangerous, safe, risk, hazard, pedestrian, cyclist, driver, pelican crossing, puffin crossing, bright, reflective and fluorescent. Place the words on small cards and hand them out to the children, who should be in pairs or small groups. Give the children time to look up the word(s) in a dictionary. Next, invite them to think about how the words could be used to describe a scenario linked to road safety.
2. Danger, danger
Set up experiments to demonstrate the danger of traffic. Simulate cars and their speed by racing toy cars across a hall. Which ones are fastest and take the longest to stop? Why? Invite the children to time the cars and record the time it takes for them to stop. They can then use their data to create bar charts of their results.
3. Zebra crossing
In your playground, practise crossing a fake zebra crossing or pelican crossing over a pretend road. You may be able to borrow equipment from your local authority road safety unit to help you do this. Remind children about the message 'Stop, look and listen' and ensure that they understand and practise the routine. Why not combine this lesson with a visit from a fire officer or paramedic, who can talk about how they help road crash victims and the dangers of roads, or from a police officer, who can talk about how they catch speeding drivers.
4. Spot the hazards
Go to a safe place where your class can observe traffic, such as behind railings in a park, or in a square where there are benches. Make sure you risk audit your route, using the advice available on the 'Educators' pages of www.brake.org.uk When you get to the safe place, use Brake's activity sheet hazard spot sheet to help the children to spot dangers. If possible, include a pelican crossing or some other safe crossing place on your route so that you can demonstrate how to use it safely, while holding hands. If crossing roads, it may be possible for you to ask a local police officer to help you.
5. Promoting road safety
Get the children to design road safety leaflets for parents on the key road safety messages, such as driving slowly around the school, or not parking near the gates.
Design a giant banner for your foyer that says: 'Hold hands when near roads!' and has lots of children's hand prints all over it.
Ask your local media to help generate publicity for road safety locally.
Put road safety messages on school newsletters for parents on topics such as: the importance of children wearing bright, reflective and fluorescent clothing if they walk to school; the need to park away from the school gates, and driving at 20mph or less in your community, particularly on roads children use to walk to school. The Government's website (www.dft.gov.uk/think) has useful information and resources.
Sign up for Brake's Record Breaking Walking Bus in June 2010 – an annual march by children across the UK to highlight the need for drivers to slow down.
Order your FREE Road Safety Week poster action pack, and access many other useful resources, at www.roadsafetyweek.org