Get set for a rip-roaring ride as we review a selection of adventure stories.
Baboon by David Jones (Chicken House, £5.99 PB)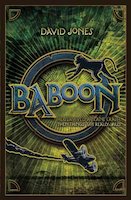 An intriguing and well-paced adventure story about a 14-year-old-boy called Gerry who is involved in a devastating plane crash over the African Savannah with his zoologist parents. Gerry is amazed when he discovers his own injured body in the wreckage and realises that he has undergone a miraculous change – he is now a baboon!
Gerry watches helplessly as a team of paramedics drives both his damaged body and his worried parents away, and knows he will have to survive as best he can in the inhospitable African bush. An exciting and involving tale that should appeal to both boys and girls.
Suitable for: boys; girls; older readers.
H.I.V.E: Dreadnought by Mark Walden (Bloomsbury, £6.99 PB)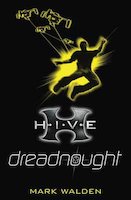 This is a superb action-adventure book about the students of H.I.V.E (Higher Institute of Villainous Education) who are hoping to become elite members of G.L.O.V.E (Global League Of Villainous Enterprises). There is dissension among the leaders, however, and an audacious attempt to destroy the league that involves the kidnapping of… no, I won't give too much away!
Seven of the students are caught up in the ensuing power struggle, and attempt to locate a missing dreadnought craft and save the day. A clever and gripping read. One slight note of caution – the fight scenes are pretty realistic; older readers will love this, though!
Suitable for: boys; older readers; more able readers.
Code Breakers by Deborah Chancellor (Barrington Stoke, £5.99 PB)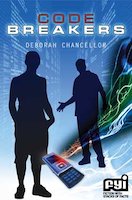 Another great book from Barrington Stoke, the publishers who specialise in books for reluctant readers, or those who struggle to read. Code Breakers is an absorbing adventure story involving lost mobile phones, kidnap plans and after-dark sorties across town. It is also full of useful tips on how to write and break codes and shows how much fun playing with words can be. Clearly written, accessible and absorbing. This should appeal to boys aged ten plus whose reading age is eight.
Suitable for: boys; younger readers; older readers; reluctant readers.
More Adventures According To Humphrey by Betty G Birney (Faber, £4.99 PB)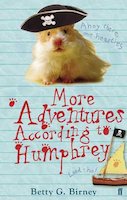 This is a charming study of childhood relationships through the eyes of Humphrey, the class hamster. Humphrey is a sweet and feisty little chap who picks up all sorts of useful information during lessons, and whose love of adventure has him exploring the school library after dark, where he learns all about pirate ships.
Humphrey ends up sailing a tall ship across Potters Pond; he is attacked by a submarine and encounters a band of scary and mean pirates. Quite an ordeal for one little hamster! Children, especially girls, will warm to this brave and loving character.
Suitable for: girls; younger readers; reading aloud.
Spy Pups: Treasure Quest by Andrew Cope, illustrations by James de la Rue (Puffin, £4.99 PB)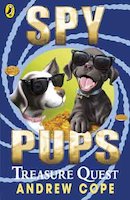 Trainee spy pups, Spud and Star, go on their first mission in this funny and exciting adventure story that both girls and boys will enjoy. This enjoyable doggy romp involves a spooky house, tumbledown castle, tales of lost treasure and some really comical baddies.
Both the ever-hungry Spud and his clever sister, Star, are great characters who, with Lara their Mum, use their spy training along with gadgets, dreamed up by Professor Cortex, to try to find the hidden treasure and save their owners' Aunt Aggie. Great fun with some excellent line illustrations by James de la Rue.
Suitable for: boys; girls; younger readers; reading aloud.
Charlie Bone And The Red Knight by Jenny Nimmo (Egmont, £12.99 HB)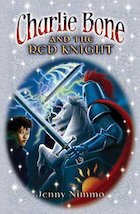 This is a wonderfully conceived fantasy adventure book, with a huge cast of great characters. Will Charlie Bone defeat the plans of the evil Masters of Bloor's Academy – and just who is the mysterious Red Knight?
Suitable for: boys; girls; younger readers.
Vermonia 1: Quest for the Silver Tiger by Yoyo (Walker, £8.99 PB)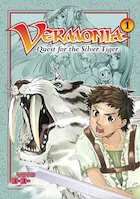 This manga graphic novel will appeal to fantasy loving boys. Four friends with special powers have to defeat the evil General Uro and restore Frasinella to her rightful place as Queen of Vermonia.
Suitable for: boys; older readers; reluctant readers.
Tollins: Explosive Tales For Children by Colin Iggulden, illustrated by Lizzy Duncan (HarperCollins, £14.99 HB)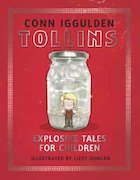 Wonderful colour illustrations accompany these very funny and inventive stories about Tollins, who are definitely NOT fairies – they have far more interesting adventures!
Suitable for: boys; girls; younger readers; reading aloud.
I Spy: The Constantinople Caper by Graham Marks (Usborne, £5.99 PB)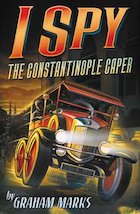 When his father disappears from their hotel room in 1920s Constantinople, Trey is plunged into a series of adventures involving mysterious locals and ruthless spies. An exciting and atmospheric thriller.
Suitable for: boys; older readers.
Bella Balistica And The Forgotten Kingdom by Adam Guillain (Milet, £5.99 PB)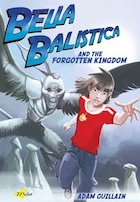 A powerful and gripping fantasy adventure. This book also deals with very real issues such as climate change and the relationships between a feisty 12-year-old heroine and the complicated world around her.
Suitable for: girls; older readers.