We visit Kids Allowed Nursery Cheadle Royal where children are cared for in an environment with five-star facilities by staff who offer outstanding provision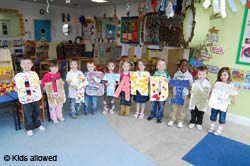 How many nurseries have the luxury of dedicated outdoor play areas for four different age groups? Kids Allowed Cheadle Royal has all that and much more. The two-storey purpose-built setting, which opened in 2005 on a business park near Manchester airport, has a sensory theatre, a large studio for dance and drama, a fully equipped music room and a library. The pre-schoolers have a rooftop garden. There is even an area where parents can relax and have refreshments when they visit, not to mention a staff rest area and shower room.
There are contract cleaners to do the cleaning, catering staff who do the cooking and a receptionist to help with admin.
Setting up
Cheadle Royal is one of three childcare centres run by Kids Allowed Ltd, which Managing Director, Jennie Johnson, set up after she was unable to find a nursery for her child that met her own high standards. Although she had no background in childcare, she was guided by her instincts as a mum and consulted other parents about what they looked for in a nursery. She seems to have thought of everything. There is even an onsite shop for items such as nappies and teething gel. No expense has been spared.
'The set-up costs were horrendous,' admits Jennie. 'The buildings cost £2.8 million each so it was a massive investment in bricks and mortar alone. It works because we have high occupancy levels, but we only achieve that because of the quality of care that we offer. We make it pay by delivering fantastic childcare that people want.'
Having respect
Jennie is a businesswoman, with a string of awards to her name, including Manchester Young Director of the Year 2008, but she is also passionate about standards and best practice. That's why she invests in the people who work for her, with a commitment to staff development that Ofsted described as 'exemplary'.
'If the staff are happy, then the children will be, too,' says Jennie. 'And that's our mission: making children happy by raising standards and the status of childcare.'
Centre Manager, Harriet Howkins, explains, 'The respect shown for us as professionals means that we all do what we are employed to do – work with children.' 'Staff are encouraged to be as qualified as they can be,' continues Harriet. 'More than half are qualified to at least a Level 3, and several are studying for degrees or the equivalent. Team leaders have the chance to go on management training courses.'
'We have an inhouse trainer who runs a rolling programme of training all year round,' says Harriet. 'So when the new framework for the Early Years Foundation Stage (EYFS) was introduced, she was there to help us. We were given a lot of support.' Given that the centre can provide care for 209 children at any one time, one of the biggest changes for them has been the shift in focus to the individual child. Yet inspectors singled this out for praise. 'Excellent emphasis on providing for the unique needs of each individual child ensures that all children thrive, progress and are fully included', says the report.
Key person
Staff at the setting have adapted their approaches to care as well as to the curriculum, with an ever-more important role for the key person.
Harriet says, 'We used to have a set time for nappy changing, with staff taking it in turns to change all the nappies. Now the key person is in tune with the needs of their children and nappies are changed when they need to be changed.
'The key person is also responsible for making observations, not just of a child's abilities and achievements, but also their likes and dislikes. For example, if we discover that a child loves dinosaurs, then we make the most of that interest – we'll count dinosaurs, look at books on dinosaurs – to make sure that they really enjoy learning.
'Staff used to plan activities that they liked to do. Now the emphasis is totally on what the children want to do. There is continuous provision – all the equipment and toys in a room are stored in low-level units so that the children can get out what they want, when they want it. Extra staff are employed above and beyond what is required, so there is always someone on hand to play if a child doesn't want to join in a planned activity.'
Parent partnership
Ofsted also observed that strong partnerships with parents 'ensure that children receive the support that they need'.
'Parents are encouraged to share information and we adapt our planning if we need to,' says Harriet. 'So when one parent told us that washing her daughter's hair at bathtime had become a battle, staff brought in shampoo and they washed the dolls' hair together, talking about how to do it carefully. The child started taking a doll in the bath with her at home as a result of this, and her mum said it really helped.'
There are lots of opportunities for parents to have their say about the provision too. 'Delighted' and 'unhappy' cards are available to pick up and fill in at any time. Parents attend open evenings and once a year a forum is held, led by Jennie Johnson, when they can hear about new initiatives and make their own suggestions.
Raising our game
'We're constantly trying to up our game,' says Harriet. 'We send out a monthly newsletter to parents and have just decided to include a section called "What we're going to do better this month", so that's going to be a challenge.
'We hold management meetings with the other centres when we talk about how we can improve. We also do centre swaps. Once a month, I go to another centre and their manager comes here. I look critically at what they do and give them feedback, a bit like an inspector, but it's also a chance to learn from them.'
A second Kids Allowed centre has also achieved an outstanding grade and now Jennie Johnson hopes to repeat their winning formula by opening three more centres in the north-west of England over the next two years.