We've teamed up with Step by Step to bring you a new series of dance and movement activities. We begin by featuring ideas on this month's theme of 'Winter'
From an early age, most babies react to the sound of music or a simple beat – usually by rocking or shrugging their shoulders. Practitioners should make the most of this pre-learned rhythm as dance and movement activities are great for developing a child's movement, coordination and motor skills. A child can also learn about body awareness and, most importantly, self-confidence at this young age.
Creating your own dance and movement sessions can be fun, easy and very enjoyable, as Natalie Walker explains in the following activities.
The weather dance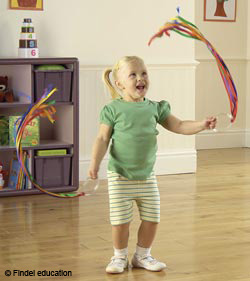 Physical Development
Health and Bodily Awareness
Recognise the importance of keeping healthy, and those things which contribute to this.
Communication, Language and Literacy
Language for Thinking
Use language to imagine and recreate roles and experiences.
What you need
Felt weather charts or images of weather; dancing rings.
What to do
Look at the weather charts or weather images with the children and talk about the different elements. Ask them what their favourite and least favourite types of weather are. Invite them to think about the different shapes that the winter elements make up, for example, a cloud, raindrop and snowflake.
Carry out some warm-up exercises with the children, then ask them to choose a space. Call out a list of elements, one by one, and ask the children to make a similar shape using their bodies, arms and legs, for example, the shape of a snowflake. When you mention the different elements, ask the children questions for example, 'What colour do you think the snowflake would be?' and 'How many snowflakes have you seen before?'.
Introduce dancing rings into the activity. Let the children swirl the ribbons to make the shape of a snowflake or to create rain showers.
NATALIE SAYS

:

'This is a wonderfully creative activity as the children have to think about the different weather elements, as well as dig deep for vocabulary during the initial discussion. They can let their imaginations run wild, and this can easily be adapted according to the different seasons.'
Shake, rattle and roll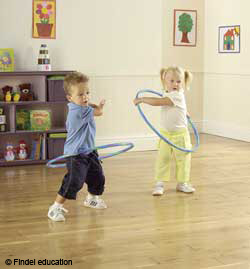 Physical Development
Movement and Space
Move with control and coordination.
What you need
Brightly coloured hoops containing sand.
What to do
Explain to the children that they are going to create their own noises with the help of a special hoop that contains sand, but first they must warm their bodies up.
Invite the children to find a space and to hold the star position with their arms up in the air. Encourage the children to shake their arms, moving down to their waist, and then alternate stamping their feet.
After a few minutes warm-up, let each child choose a hoop, then ask them to go back to their space. Invite the children to slip the hoop under their feet and hold it around their waist. Tell them that they are going to do the 'shake, rattle and roll'. Show the children how to press the hoop against their lower backs, while gripping the hoop with both hands on opposite sides. Then push the hoop either to the left or to the right, and release the hoop from your hands while swivelling your hips, so that you aim to make the hoop spin around your mid-section – remember practise makes perfect!
NATALIE SAYS

:

'This activity is fantastic for concentration and coordination skills. I recommend practise, practise, practise! Even younger children are fascinated by the movement and will watch others if they are not sure what to do. Spinning the hoop around their mid-section is a tricky skill but they will definitely have fun trying.'
Juggling scarves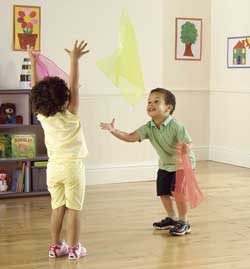 Physical Development
Movement and Space
Move with confidence, imagination and in safety.
Creative Development
Developing Imagination and Imaginative Play
Use their imagination in art and design, music, dance, imaginative and role-play and stories.
What you need
Juggling scarves.
What to do
Props such as scarves are a great way to get children moving more freely and are an excellent aid for teaching young children the basic skills required for juggling. Early years juggling scarves are designed to be lightweight enough to travel through the air and slow enough for small hands to catch them and experience success.
Ask the children to work with a partner, then invite them to choose three coloured scarves to share between them. Encourage the children to throw a scarf in the air so that they can see the speed at which the scarf drops down to the floor. After a few 'drops', suggest that the children repeat this, but try to catch the falling scarf.
Once the children are happy with catching the scarves, ask each pair to stand facing each other, approximately a step apart, and take turns to throw a scarf to each other. Let the children introduce another scarf when they are ready.
NATALIE SAYS

:

'This is a really fun activity that could be adapted to suit different ages and abilities. The scarves glide slowly to the ground, which means that the children are able to move fast enough to catch them. The visual display of colours is fantastic.'