Get out the glitter and the glue and make these wonderful festive resources
Chimney pot Christmas cards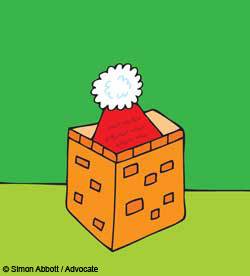 Provide each child with a strip of card and ask them to decorate it with a brickwork pattern (show them an example if necessary). Fold and tape the card evenly to represent a 3D chimney pot, with an open top and base. Help the children to carefully cut out a triangle of red paper and decorate it using cotton wool or white tissue to represent Santa's hat. Help the children to write a Christmas-themed message on the back of the hat. Poke the hat inside the top of the chimney to create a 3D Christmas card.
Evergreen display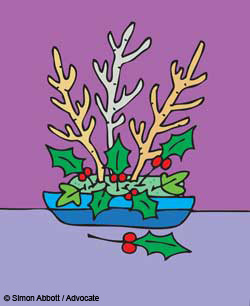 Soak some oasis in water (this is available from most florists). Secure the damp oasis on to plastic trays using strong tape. With parental permission, take the children on a local winter walk, and help them to gather a selection of evergreen leaves and twigs. Back at the setting, encourage the children to decorate the dried twigs with silver and gold glitter. Show the children how to create a pretty table centrepiece by pressing the twigs and leaf stems firmly into the damp oasis. Suggest that the children give their display to someone special as a unique seasonal gift.
Rudolph mask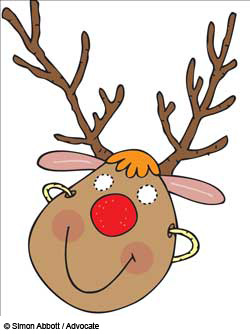 Sing Rudolf the Red-Nosed Reindeer with the children, or listen to the song on a CD. Show the children pictures of Santa's reindeer in children's storybooks or on Christmas cards. Help the children to create a blank mask by cutting out an oval of card with two small eye holes. Invite the children to decorate the mask to represent Rudolph's face using brown paints, pens, crayons, coloured pencils or collage materials. Encourage them to add a bright red shiny nose using foil, glitter, silky fabric or Cellophane. Take the children outdoors to select some long, spiky twigs. Help them to tape the twigs on to Rudolph's head to represent 'antlers'. Invite the children to wear their mask for Christmas-themed role play.
Freestyle streamers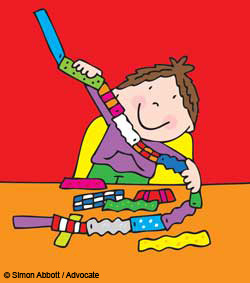 Provide the children with a wide variety of recyclable materials, for example, crêpe paper, tissue-paper, fabric, felt, lace, ribbon, shiny foil, Cellophane and Christmas wrapping paper, in seasonal colours such as red, green, gold and silver. Encourage the children to carefully cut the materials into long strips of different lengths and widths. Suggest that some strips have straight edges, while other strips are wavy, ragged, curved or zig-zagged. Staple several strips together at one end to create long 'freestyle' streamers. Help the children to hang the streamers on the Christmas tree, over door frames and around your setting.