Are you an NQT? Do you struggle with classroom behaviour? Avoid that sinking feeling with some easy-to-follow tips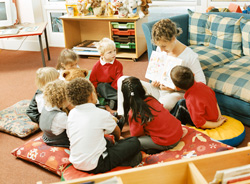 Image © Bananastock/JupiterImages/GettyImages
According to research commissioned by the largest teachers' union, NASUWT (see 'Further information', right), dealing with behaviour issues is one of the key concerns for new teachers. The research found that almost half of new teachers felt that the behaviour management training they received was inadequate, and that this had a serious impact on recruitment and retention.
After five minutes on the carpet, the children will be starting to wriggle; after 20 minutes there will be a full-scale riot. A great rule of thumb for children's concentration levels is 'their age plus two'
To an extent, you learn to become a teacher by being a teacher and making your own mistakes, but the current approach leaves many to sink or swim. Clearly, changes need to be made, with a better balance between theory and practical advice during initial teacher training. Although it's important to understand the theoretical underpinnings of what you do in class, practical strategies are what you need to survive from day to day in the job, particularly in the tricky first year.
Risks and rewards
To become a really good teacher, you've got to take a few calculated risks. Your first year is a great time to do this, because no one expects you to be perfect just yet. As a new teacher, the temptation might be to opt for low-risk approaches to teaching and learning. For example, you may feel more in control when you teach from the front of the classroom, but beware of the temptation to do lots of whole-class teaching in this way. After five minutes on the carpet, the children will be starting to wriggle; after 20 minutes there'll be a full scale revolt. A great rule of thumb for children's concentration levels is 'their age plus two'. Aim for no more than about six to eight minutes of whole-class teaching at any one time. Intersperse any longer periods of talk with Q&A sessions and quick-fire discussions, or by inviting children up to the front of the class to demonstrate something.
Taking risks with resources
Use plenty of interesting resources to keep your class engaged. Think about multisensory approaches to learning, and about how you can get the children interacting with displays, each other, technology, props, and so on. This can feel risky at first – you worry about the children getting over excited. But, with practice, you'll find ways to keep the class calm, and you'll gradually build and develop your classroom management skills.
Getting to grips with group work
It can feel scary to set the class off on a group task, without your direct input. What if noise levels get too high or they just run around the classroom. The best way to manage group work is through plenty of practice. Here are a few pointers:
Be crystal clear about what you want the children to do during a group task. Set targets and time limits, and give details about using resources and noise levels.
Have a clear 'stop signal', preferably a non-verbal one such as a raised hand or a instrument sound. Don't call over the noise of the class – you'll wear out your voice.
Don't be afraid to stop the class during an activity: for instance, to get feedback on how they're doing and make sure they're on the right track, to give details of how much time they have left, to talk about appropriate noise levels or to give praise.
Consider the way you arrange your groups: ability, mixed groupings or even random combinations for some activities.
To help you develop your teaching, take every opportunity that's offered to watch other teachers in action. As you watch other teachers, think about what you'd like to emulate, and where you would use different approaches of your own. Watch to see how other teachers handle potentially tricky situations – pick up those little tips of the trade that every teacher learns with experience. Above all else, try to enjoy your first year of teaching, and hopefully the many years to come.
Further information
To read a full copy of the research, Sink or Swim? Learning Lessons from Newly Qualified and Recently Qualified Teachers (commissioned by the NASUWT) visit www.nasuwt.org.uk
Top tips
Any experienced teacher will be happy to offer you advice about how best to manage behaviour. Turn to others at your school to help you – your mentor should be there to support you, so ask for advice about what methods will work best with your class. Here are my top five 'dos and don'ts' for the newly qualified teacher:
Do… Set a few clear rules at the start of the year – between three and five rules is perfect for younger children. Some teachers like to make these rules together with their class to build a sense of teamwork. Be pro-active about insisting on good behaviour.
Do… Create simple routines for your class, ones that are easy to understand and follow. Stick with your routines – your class will feel secure. The more secure they are, the less likely they will be to misbehave.
Do… Learn to wait for your class to 'come to you' – to pay you silent attention when you need to address them. Patience really is a virtue in the classroom; don't feel that you have to rush to get through the work. If you try to talk over the children in your urgency to get on with the lesson, you're effectively telling them that what you're saying doesn't matter.
Do… Work hard at building up relationships, because at its heart, that's what behaviour management is all about. A name, a smile, some verbal praise – do lots of little things to show that you're interested and that you care.
Do… Remember that with time and experience it really does get easier.
Don't… Talk too much – your class will switch off and misbehave. Set time limits for teacher talk and keep the children involved by asking lots of questions.
Don't… Take misbehaviour personally. Most of the time, it's not about you or your lesson, it's about the child and their needs or issues.
Don't… Overreact, become defensive or resort to sarcasm. Aim to stay calm, relaxed and maintain a sense of humour.
Don't… Feel that you must deal with every minor incident the moment it happens. If a child's misbehaviour is not immediately interfering with your teaching, then use a non-verbal signal or say 'I'll talk to you in a moment'. Keep the flow of your lesson going rather than allow lots of interruptions.
Don't… Ever lose your sense of perspective. Even your worst lesson is never as bad as you think it is.