Liven up drama sessions with these story-based ideas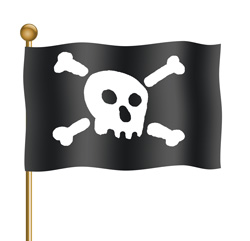 Pirate flag © wemedge/www.sxc.hu
1. Captain Baldbeard and his pirates
Captain Baldbeard was cross and bad tempered because he was the only pirate on his ship who could not grow a beard. So, to keep him happy, his crew spent the evenings singing, playing pipes and drumming on barrels. But, one night, Captain Baldbeard flew into a rage, shouting 'I'm fed up of music. I want to hear a story! I want to see a play every night that I am at sea. Otherwise, you will all walk the plank!'. The poor pirates couldn't think of any good ideas…
Can your class make up some stories about pirates, act them out and take pictures of their plays for the pirates?
2. The show must go on
The young children in the nursery class were very excited because they were going to watch a play about The Gruffalo as a Christmas treat. But, then they heard that the theatre company coming to perform the play was stuck in snow and couldn't make it to school. The children were extremely disappointed and some started to cry. Suddenly, their teacher, Mrs Baker, had an idea. She decided to ask some of the older children in the school to listen to the story of The Gruffalo by Julia Donaldson and Axel Scheffler, talk about the animals and what happens in the story, and then, using their own words, act it out for the nursery children. Could your class do this for them?
3. The Christmas pantomime
It was wintertime in the woods, and the woodland animals were gathered together to plan their Christmas pantomime. 'Every good pantomime needs a prince, a fairy godmother, a pretty girl or princess and, of course, a character to make everyone laugh, like a dame,' said Rabbit. 'But what will the play be about?' asked Squirrel. 'And who will play each part?' asked Badger. 'And who will write the story and the jokes?' asked Fox. Do the children think they could help the animals by making up a pantomime for them? Lots of animals want to take part in the play and, of course, they would all like lots of jokes!
4. The puppet theatre
In a corner of a school, forgotten and dusty, was an old puppet theatre. It once had many puppets, including a crocodile, a monkey, an astronaut and a clown, but they were all broken, and all that remained was a ballerina, a soldier and a little dog. Mrs Evans, a new teacher, felt sorry that the dog had no one to play with, the soldier had no one to guard, and the ballerina no longer danced.
Find even more fantastic story-based literacy starters in our online archive! You'll never be stuck for a creative writing prompt again!
Can the children make some new puppets, including a ballerina, a soldier and a little dog, build a theatre from cardboard boxes, and then take turns to make up stories for the theatre. The rest of the class should watch each performance and then say what they liked about it.