Everyone's invited, so don't miss out on the last in our series of fun-filled numeracy ideas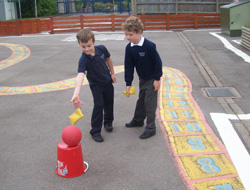 Fairground games can provide an exciting opportunity to boost maths skills!
Turning your classroom into a stall at a fair is a great way to introduce your class to a wide range of numeracy themes. For example, a tombola will help children to identify multiples of five and ten, a raffle is great for place value, and a game of skittles can add some fun, and possibly an element of danger, to a lesson on addition. If you like your lessons to be 'child-led' then allow your class to plan and hold a fair of their own. This is the perfect way to end a series of fairground-themed maths lessons (see the Sept-Nov '09 issues of Child Ed PLUS), encourage teamwork among your class and allow you to observe their problem-solving skills in action.
This month's activity is based on an event planned and carried out by my Year 1 class last summer. The children had to organise a fair for the Year 2 children to celebrate the end of SATs. Each team had to devise a game for the Year 2 children to play and, as an extra incentive, there was a prize for the most successful stall. The fair was the culmination of our topic on 'circuses and fairs'. We try to end most of our topics with a celebration, but the activity would work just as well as a one-off event.
Prepare the way
First put your children into working groups. In my class, as well as working in ability groups, the children work in mixed teams for creative work and problem-solving activities. Planning an event like this works well in mixed teams as it gives all the children an opportunity to contribute ideas regardless of their mathematical ability. The Blackbird team in my class proved that you don't need to be mathematical geniuses to devise a game called 'Splat the duck!'. Ensure the children have some experience of different types of fairground games before they plan a fair of their own. Most children will have been to a school fête or similar, but for those who have not, playing similar games will give them a few pointers when it's time for them to generate some ideas of their own.
Get creative!
Once in their teams, the children will then need to come up with some exciting games. This is not as easy as it sounds, as an idea on paper may not necessarily work in real life, so give your class the chance to experiment with different resources until they come up with a good game and a set of rules that are fair! We devoted a couple of PE lessons to planning and playing games. We took all the games equipment on to the playground and let the children, in their teams, have free rein. Yes, this did lead to chaos, a beanbag on the roof and a hoop in the tree, but the children relished the chance to get their hands on the PE trolley without being directed by me for once. When the games had been planned, the children visited the other teams and tried out their games. This gave each team the chance to see what the competition was up to, as well as what changes were needed to improve their own games.
Make it perfect
When the children have come up with their games, they will then need plenty of time to try them out and work together to overcome any pitfalls. Initially, most of my class' games involved beanbags and hoops, but after a couple of planning sessions back in the classroom, and a raid on the well-stocked resources cupboard, the games evolved into: knocking balls off old carpet tubes (coconut shy), lifting quoits out of a basket with hockey sticks (hook the duck), throwing a PE shoe as far as possible (welly wanging) and whacking a toy duck with a hockey stick as it emerged from a piece of old guttering ('Splat the duck!'). I don't think it was a coincidence that there were more boys than girls in the team that came up with the latter idea. One group didn't get much further than the beanbags into a hoop, but as the next task was to give the game a numeracy element they were able to devise quite a complicated scoring system. As you can probably imagine, the same couldn't be said for the 'Splat the duck!' team.
Funfair time
The last thing your class needs to do is drum up some business for their fair. If you are looking for some cross-curricular links, you could make posters (literacy); get your class to consider different locations for the fair (geography); times and entrance fees (maths) or donate your profits to a good cause (PSHE). On the day, try to get some parent helpers to oversee fair play and if you're involving real money – to check that everyone gets the correct change.
We were very lucky that despite a very wet May and June, the Sun shone on the day of our fair. Year 2 were ecstatic as the cloud of SATs had been lifted and Year 1 were revelling in their role of stall holders, many going home with sore throats having yelled 'Roll up! Roll up!' too many times.
The prize for the most successful stall, of course, went to Blackbird team with their 'Splat the duck!' stall. There might not have been a lot of numeracy involved in the game, but there was a lot of fun and sometimes that's just as important.