Explore the festive frolics of the Victorian era with these lively and engaging ideas for Christmas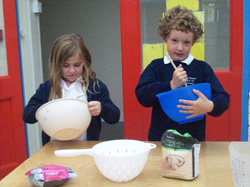 Year 1 children cook up a fabulous figgy pudding
One of the best things about Christmas in school, for me, is the feeling that I am passing on a set of traditions that I first experienced when I was a schoolchild. Traditions such as eagerly awaiting my turn to open the class advent calendar, sneaking home the Christmas card that I'd made for my parents and famously hitting the wrong note on the glockenspiel during the introduction to 'Away in a Manger' at the school carol concert.
Christmas can be a bit of a crazy time in school. Practising Christmas carols seems to start the minute the harvest festival contributions have been boxed up, and there's certainly no time for literacy and numeracy once rehearsals for the nativity have begun! So last year I decided to take a different approach. I was just beginning my second year following a topic-based curriculum and wanted to make sure I kept to our topic, without losing Christmas along the way. A topic on the Victorians seemed ideal since many Christmas customs were established at this time. I could many National Curriculum boxes, as well as delivering my lessons practically and creatively.
Setting the scene
The Victorians were very enthusiastic about decorating their homes at Christmas time. People would gather greenery, flowers, pinecones, berries and fruit from hedgerows to decorate their homes. They would then cover their mantelpieces, mirrors, tables and banisters with these natural ornaments.
Curriculum links: History 6b; Art and design 2a; Music 1a; Sc3 1c
You will need: Evergreen leaves such as holly, fir, yew and ivy (see safety note below) and ribbon or string.
What to do
Teach your class the carols 'The Holly and the Ivy' and 'Deck the Halls with Boughs of Holly'. Although they have been around for centuries, Christmas carols were popularised by the Victorians who, having sung rather sombre hymns during the rest of the year, enjoyed singing some jollier tunes at Christmas. Many of our more popular carols, such as 'Away in a Manger', were composed during Victoria's reign, too.
If you're fortunate enough to have evergreens growing in your school grounds, take your class on a winter walk to gather leaves and berries (see safety note below). Back in the classroom, compare your natural finds with some modern decorations and discuss the materials.
If decking the halls with boughs of holly seems a little too ambitious, just try decking out your home corner or a dolls' house. Alternatively, let the children select an assortment of stems and help tie them into bunches. These can then be taken home to decorate their own homes.
(Safety note: Some varieties of yew and ivy are toxic if ingested. Use a plant guide to identify and avoid poisonous species. Remind the children that they must never put any part of a plant in their mouths and to wash their hands after handling them or wear gloves.)
Figgy pudding
Dinner was the highlight of Christmas day for the Victorians. It was served on the finest china, laid out on the best tablecloth and surrounded by extravagant displays of flowers and evergreens. The main course was often roast goose, traditionally followed by Christmas pudding, topped with holly and brought flaming to the table. Your school's health and safety policy will probably prevent you from setting fire to your desert, but you can still have fun with this whole-class activity.
Curriculum links: History 6b; Maths 3 1b; PSHE 1b, 1e
You will need: A simple Christmas pudding recipe (there are plenty online, such as at www.bbc.co.uk/food, including nut-free versions); a large mixing bowl; a wooden spoon and a pudding basin.
What to do
This activity ties in really well with the start of advent when, traditionally, people begin their preparations for Christmas. Explain to your class that the making of the Christmas pudding was a great ritual for the Victorians. On 'Stir-up Sunday', the last Sunday in November, Victorian families would return from church and take turns to stir the Christmas pudding while making a wish. The stirring was always done clockwise, or from east to west, to represent the journey of the Three Wise Men.
Make the activity cross-curricular by preparing your pudding during a numeracy lesson and involving your class in the weighing and measuring of the ingredients. Add an element of PSHE by discussing the children's wishes for the future or a wish that would benefit someone else. Traditionally, the Victorians steamed their puddings for eight hours but don't be afraid to resort to a microwave if you want to sample your pudding before home time.
Explain to the children that the Victorians also added a ring for marriage, a coin for wealth and a thimble for happiness into their Christmas puddings. However, unless you are an expert in the Heimlich manoeuvre, you may feel these items add an unnecessary danger!
Other Victorian customs
It was the Victorians who popularised the Christmas tree in our country. Originally a German custom (see the 'Tannenbaum' activity on pages 12-13), tree decorating became a central feature of the Victorian Christmas after an etching of Queen Victoria, Prince Albert and their family, gathered around a decorated tree, was published in 1848.
Why not decorate your school tree in a Victorian style? Make gingerbread (see www.cookuk.co.uk/children/ginger_bread_men.htm for a simple recipe. Remember to make a small hole at the top of the biscuit before cooking to allow ribbon to be threaded through after baking), paper fans, or fill paper cones with treats and hang them on the trees.
Christmas cards also became immensely popular during Victoria's reign. First sent in 1843 by Sir Henry Cole, they quickly replaced the Victorian custom of sending a letter to friends and family at Christmas time. Queen Victoria herself was said to have been an avid fan of the Christmas card. As they grew in popularity, the cards began to change in shape and size, with the more elaborate cards being embossed or gilded. Images of small children enjoying the festive season was a common theme and all cards included a seasonal message or religious thought. Many Victorians liked to customise their cards with material such as lace.
Find more Victorian resources in our online archive — perfect for bringing the past to life!
Invite the children to create their own Victorian-style Christmas cards by boardering them with ribbon, lace or paper doilies. Apart from evoking much Victorian nostalgia, it will give your cleaner a break from hoovering up sequins and glitter – something that seems to have become my school's Christmas tradition!