Circle time: New Year around the world
16 November 2009
Add to My Folder
This item has 5 stars
of a maximum 5
Rated 5/5 from 2 ratings (Write a review)
Use circle time to explore a world of New Year celebrations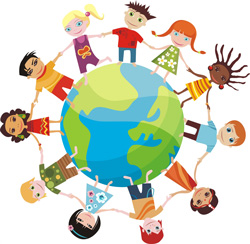 Image © nem4a/www.stockxpert.com
The informal nature of circle time makes it an excellent setting for covering Social and Emotional Aspects of Learning (SEAL). Circle time is an opportunity to discuss experiences, past, present and even future, so what better time to do this than at the start of a brand new year? The following activities are designed to prompt group discussion. What route the discussion takes and where it ends, you'll have to find out for yourself!
1. The Chinese New Year
Children are often fascinated that the Chinese New Year does not start on 1 January (the next one starts on 14 February 2010), and intrigued by the fact that everyone has an astrological animal defining the year they were born. Read out some of the characteristics of these animals during a circle-time session (characteristics can be found on various websites). Do the children recognise any of their own animal's characteristics in themselves? Obviously, there will not be a wide variety of animals represented in one class, so you could include the teachers and teaching assistants – can the class guess which animals the adults are?
If the children could choose their own Chinese astrological animal, which one do they think would define their personality best? An owl maybe? (Thoughtful and wise.) A hamster? (Likes to stay up all night and stores food away for midnight feasts.) Or maybe a dolphin? (Happy to play in the swimming pool all day, and a bit of a show-off!)
As part of a literacy lesson, ask the children to draw the animal they think best suits their personality and to write a couple of sentences explaining why this is the animal for them. You could use the framework: 'I think the year I was born should be called the year of the… (owl) because… (owls are happy to stay up at night. They like sitting in trees and people think they are clever) just like me'. Use these as part of a wall display, class book or class assembly.
One of the most popular activities during the Chinese New Year celebrations is observing the custom of Hong Bao. Married couples give children small red envelopes filled with 'lucky money'. Red is considered to bring good fortune and the money inside is used to buy holiday treats. At the end of circle time, hand out little red envelopes with chocolate coins to each child in the class.
2. Resolutions
Ask the children what it means to make a 'resolution'. Do they know anyone who is going to make a New Year's resolution? Will they make one themselves? What will it be? Discuss some common examples, such as being more healthy and doing more exercise, or trying a new hobby. Why do the children think the start of a New Year is a good time to make resolutions? Invite the children to form groups of four or five and talk about the resolutions they would like to make. Let them share their thoughts and suggestions with the rest of the class.
3. New Year around the world
There are many other unusual and interesting New Year traditions practised throughout the world. Share the information below with the class during circle time, and try a few out. So what if it's not New Year's Eve, you can pretend!
Although New Year is celebrated throughout the world, it is not necessarily celebrated on 1 January, as not all countries follow the same calendar. China, Israel and India, for example, have their own versions of lunar calendars and celebrate New Year at different times of the year. Some countries celebrate in spring, when it is time to sow new crops, and others at harvest time in the autumn. The reasons are usually connected to ancient traditions and customs. These mostly relate to chasing away evil spirits, so that the bad experiences of the past can be forgotten and a new, fresh start can be made in the coming year.
Australia: It is tradition on 1 January, on the stroke of midnight, to make as much noise as possible using rattles, whistles, car horns and church bells to chase away evil spirits. During the day, Australians take part in fun activities such as rodeos, carnivals, races and picnics.
Brazil: Brazilians celebrate New Year by eating lentil soup or lentils and rice, to bring them good health and wellbeing.
Plenary ideas
Invite the children to make Bolivian-style straw dolls (you could adapt the Dingle, dangle scarecrow mini project (subscribers only).
In the style of a street carnival (popular in Australia and Latin America), march around your playground with whistles, rattles and brightly coloured masks. (It's probably a good idea to clear this with your headteacher first!)
Let the children follow the Spanish tradition and eat 12 grapes, expressing a 'wish' for each month of the forthcoming year. (Note: cut grapes in half first to avoid choking.)
India: The Indian New Year begins with Diwali (the festival of light) that symbolises the triumph of good over evil. (The next Diwali will be celebrated on 5 November 2010.)
Japan: The New Year is known as Oshogatsu and is a public holiday, allowing a day of family celebrations. Japanese people customarily hang a straw rope across the front of their houses to ward off evil spirits and attract happiness, prosperity and good luck. It is also traditional to have a good laugh on New Year's Eve to bring good luck in the next year.
Spain: At midnight on 31 December, it is traditional to pick and eat 12 grapes from a bunch, so that all 12 months in the coming year will be full of happiness and prosperity.
Bolivia: Bolivian families hang beautiful straw or wooden dolls outside their homes to bring good luck in the coming year.