Discover how a creative curriculum can benefit the whole-school community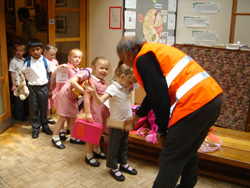 An airport role play helps children to learn about travel and the global community
In school, 'community' means the children and their families, the staff and those who live and work in the neighbourhood. Today, the school community also reaches out to the wider world, to other parts of the UK, and beyond, to the global community. Community cohesion is about working towards a society in which there is a common vision and sense of belonging by all communities. It is about appreciating and valuing the diversity of people's backgrounds and providing similar life opportunities to all, where strong and positive relationships are developed. The goal of community cohesion is to help children live and thrive alongside people from all backgrounds. Taking Ofsted's question about community cohesion, 'What are you doing about it?', we take a look at one school in Wolverhampton that has used their curriculum choice, the International Primary Curriculum (IPC), to help them address community cohesion in a meaningful and relevant way.
Embracing diversity
'Community cohesion works on many different levels in our school,' says Carroll McNally, Headteacher at Holy Trinity in Bilston, Wolverhampton, a Catholic school embracing a diverse range of faiths, 18 or so different nationalities and many community languages. 'One of several crucial things that the International Primary Curriculum does is to act as a vehicle for personal and social learning,' continues Carroll. 'Much of the community cohesion work we do is embedded within the IPC's thematic units. The children learn about a theme, not only academically, but from a personal and local level too, as well as from the point of view of children in another place or another country.'
The places people go
One of the IPC units that promotes a sense of global community is the unit 'The Places People Go', as Carroll explains: 'Linked to our Modern Foreign Language, which is Mandarin, we mock up an airport complete with check-in and passport control in one of our classrooms. The Key Stage 1 and Nursery children then come into school with their suitcases ready for 'travelling' to China. Using passports they've already made, they 'board' a plane – set up in our school hall – while our teaching assistants transform the classrooms into China. Dressed in costume, the TAs act as Chinese greeters at the airport. There's also Chinese food to sample and pictures displayed of life in China.
'Over the next few weeks the children participate in a range of learning activities about travel, both worldwide and closer to home. The entire unit helps them to look at their personal, local and global communities, comparing and contrasting themselves with children in China wherever they can. When we look at China (as with other countries), we avoid stereotyping an entire community by teaching children not to view things as blanket issues.
'As a school, we've linked with two schools in China, Qian'men Primary and Beijing Chongwen Primary. This also involved a visit to China by our Deputy Head, who shared video footage of our IPC learning experiences with the children in China. The IPC is an excellent foundation to link with other schools on projects like this and to help the children see how they exist within one global community.'
The things people do
Another IPC unit that boosts community cohesion is 'The Things People Do'. Carroll explains why this unit provides another opportunity to help children see themselves as part of larger society: 'This unit helps the children to look at people in their professional roles within the community and how these roles have a direct impact on the children and their families. It also helps us to position the school within the community and show how community cohesion improves when all roles are valued.
'We want the whole community to value us as a school but we don't expect them to do that unless we value the community. So, we bring in and work with lots of different local organisations, such as the police, social bodies and the church. Tying this into the unit 'The Things People Do' helps us to embed the focus on local community cohesion into the IPC curriculum so that it's not just an add-on but is part of the children's learning that's relevant and purposeful.'
My world
The 'My World' unit encourages children at Holy Trinity school to recognise their own, and their family's, role in the community.
'As part of the unit, the children create boxes containing items representing their lives,' says Carroll. 'This involves them talking to their parents and family members. Traditionally, although they have been supportive of the school in many other ways, our parents haven't been open to curriculum activities. However, this unit is helping to encourage more dialogue between the children and their families, and the results have been significant.
'Many of the boxes that the children have made have been superb. The children learn about their own cultures and they love sharing this information with the rest of the class. This intergenerational family dialogue is so important and is at the core of community cohesion.'
Involving families
The way a school uses its curriculum can really make a difference to the way community cohesion is promoted. 'At the beginning of each year and each unit, we send letters to parents explaining what the children will be learning,' says Carroll. 'We also give them ideas on how they can support their children through the themes of learning, including local places to visit at little or no cost. We also suggest ideas for things to do in their garden, park or along their street. We know these suggestions help because the children tell us what they've done.
Further information
The International Primary Curriculum helps children to look at everything they learn through a local and global perspective, developing adaptable, globally minded learners prepared for the world of tomorrow. For a sample of an IPC unit or to visit an IPC school, contact the IPC on 020 7531 9696 or visit www.interationalprimarycurriculum.com
'The IPC is helping to open the minds of even our youngest children, showing them that they're part of an ever-growing community – a family, a school, a parish, a town, a country and part of one global family. We believe that achieving this is a major step towards community cohesion.'