Year 1 children at Weston Park Primary School review journey-themed picture books
Danny's Adventure Bus by Lucy Marcovitch, illustrated by Paul Cemmick (Tamarind Books, £5.99)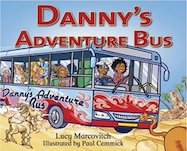 This non-fiction book centres on a typical bus journey where the passengers are stuck in busy traffic. A boy passenger called Danny responds by putting on his own driver's hat and taking the bus on some fascinating adventures to rainforests, deserts and underwater. Brooke particularly enjoyed this, commenting: 'It was good because he went to a lot of different places'.
The illustrations are simple, colourful and cleverly drawn, with added humour on each page. Robbie commented on how much he liked the pictures. The illustrations also give clues as to what is coming up next in the book and this helped to focus the children's attention as they listened to the story. The characters in the story represent people of different ethnic backgrounds, allowing all readers to feel that bit more involved. The book also allowed the class to compare the different environments featured. A lovely story book – ideal for whole-class discussions.
Suitable for: boys/girls/4-5/6-7/reading aloud
Green Light for the Little Red Train by Benedict Blathwayt (Red Fox, £6.99)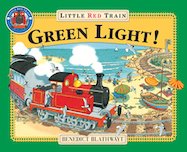 For anyone interested in trains, this is a lovely story book to share. It's about a train driver called Duffy who has been instructed to keep driving so long as the lights are green – something he follows to the letter. This results in him driving through a dark tunnel and passing through France, Spain and Italy.
The story introduces different countries and provided my class with the opportunity to discuss how near they are and which would be the best method of transport to reach them. This prompted the children to talk about their own travel experiences, too.
The illustrations are wonderfully detailed with the differences between countries, such as the different foods they produce, brilliantly portrayed. Aaliyah liked the pictures because they were 'all different', while Ellie loved the red train. This book also captured the boys' attention because of similarities to well-known trains in other books. A beautifully illustrated story book.
Suitable for: boys/girls/4-5/6-7/reading aloud
Small Mouse Big City by Simon Prescott (Little Tiger Press, 10.99)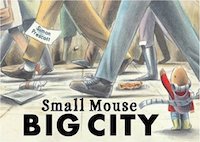 This book is about a tiny mouse that embarks on an adventure, leaving his rural home to visit the busy and seemingly scary city. The mouse finds the experience of the city all rather daunting until he meets a fellow mouse to show him the 'upside' of such a vast place. The large, double-page illustrations exemplify the size of the city, and colour and shading help to create a wonderful atmosphere. Brooke commented: 'The pictures are really good, but I didn't like the dark pictures, they were a bit scary.' Reece, however, enjoyed all the pictures: 'The tall buildings in the book were really good.'
This book comes with a lovely introduction to the story, on the inside front cover, in the form of an invitation to the mouse. It was great for encouraging discussions about different forms of writing. The story allowed us to compare the differences and similarities between rural and city life. It also provided an insight into different modes of transport, and the lack of it in rural areas. Brandon said: 'I liked the train. It seemed really big.' However, the text was rather small and we did find that at times it seemed almost incidental to the pictures. A good read, though, that proved useful for class discussions.
Suitable for: boys/girls/4-5/6-7/reading aloud/more able readers
The Extraordinary Adventures of Mr Benn by David Mckee (Hodder Children's books, £10.99)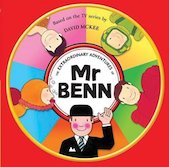 This collection of stories from the much-loved television series tells of Mr Benn's adventures 'to different lands', as Chloe put it, when visiting a fancy dress shop. Presented in a thick hardback book, the short stories can be dipped into easily (it's too big a book to read all in one go!) and range from Mr Benn becoming a red knight to a caveman, as well as various other exciting characters. Once in costume, Mr Benn looks in the shop mirror and is transported to another world. Shane enjoyed the 'knight' tale because 'It was clever when Mr Benn helped the dragon', while Poppy Rose thought 'The pictures were funny because he kept getting dressed up.' The stories were not always predictable and this resulted in the children being surprised at the outcomes of each ending.
The adventures in this book allowed us to discuss different lands and touch upon historical changes. The book prompted lots of questions from the children and this allowed us to clear up some misconceptions about dinosaurs, cave people, and so on. Following the theme of transport and journeys, the stories covered many different aspects from space travel to under-water travel. This fun and colourful book is illustrated to a high standard and was enjoyed by everyone.
Suitable for: boys/girls/4-5/6-7/reading aloud
Oliver Who Travelled Far and Wide by Mara Bergman and Nick Maland (Hodder Children's Books, £10.99)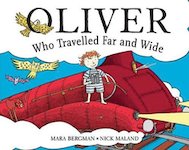 This book takes the reader on an adventure onboard a toy train that belongs to Oliver, who is searching high and low for his lost teddy. The text is written using simple rhyming vocabulary throughout and this provided a great opportunity for the children to predict the rhyme and join in reading the story aloud. This proved to be a great book to share with a whole class or group and a gentle introduction to rhyme – the children all thought the rhyme made the story lots of fun to listen to.
Since the story illustrated Oliver's visits to different parts of the world, we found it led to discussions and questions about a variety of environments and different climates. It linked in rather well to our geography topics and became a great introduction to learning about different modes of transport. In particular, Hayden commented: 'I liked the picture of the train, it was very colourful. In fact, everyone enjoyed sharing the large and colourful illustrations. We especially liked the way the illustrator, Nick Maland, used double-page pictures to bring the story to life.
An exciting read – and, as with the other hardback books, we felt that this one would last a long time on our bookshelf.
Suitable for: boys/girls/4-5/6-7/reading aloud/reluctant readers
How have things changed: Travel by James Nixon (Franklin Watts, £11.99)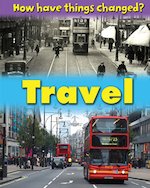 This is a fantastic non-fiction book. It uses past and present photographs to identify different methods of transport, old and new. Cleverly, the photographs are often taken in the same place, so that the only difference is the mode of transport. I found this book particularly helpful, since the children could look on one page and compare, for example, a bike of the past with one that is more familiar to them today. George noticed that the old bike had 'a very large wheel', while Robbie noticed that carts were in use before cars. Examining real photos really helped to bring the past to life. This book provided a great starting point for a variety of discussions about modes of transport and general changes throughout history.
The text is written clearly, and important words are highlighted in bold type. Each photograph also includes a question to ask the children. This was really useful to me as a teacher, and would also support a parent if the book was taken home to read. Explanations are given as to why changes in transport may have occurred, answering many questions that my class raised. The explanations proved to be a useful teaching tool, and addressed the topic of changes in transport clearly and simply.
Suitable for: boys/girls/4-5/6-7/reading aloud