Prepare to get hot under the collar as we take a tour of this exciting location
Throughout this series we have snooped around a witch's cabin, explored the Ice Queen's grotto and made ourselves at home inside a woodland den. Now it's time to pack our bags and don our super- sleuth hats, as we prepare to enter the dragon's lair…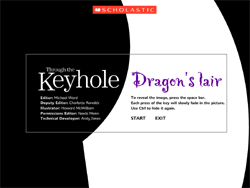 Who would live in a lair like this?
For subscribers accessing this resource, it works best viewed full screen on an interactive whiteboard. By pointing at different areas of the screen, children will be able to move the keyhole and view various sections of the image. By studying what they see, children can build up an overall picture of the room and its owner, via the objects and features that they identify.
When you're done exploring, the whole image can be revealed, so that children can see the full location in all its glittering glory. This serves as a great backdrop for drama and role play, or as a visual stimulus for story-writing.
Talking points
We're not alone
These spooky caves and glittering spider webs could suggest darker dangers for the unwary adventurer. What might we discover if we dare to touch those sticky strands?
In a flap
Is it a bird, is it a plane… no it's a colony of bats. Are they visitors to this fiery lair or long-time residents? They certainly appear to enjoy stretching their wings – perhaps a rare opportunity while the homeowner is away.
Treasure trove
Forget the lottery, here's a veritable hoard of gold and jewels ready for the taking. Who does it belong to? Where has it all come from? Do you think it is wise to take something from the mound of treasure – or would that be stealing?
What is that breaking out of the shell… does that look like a reptilian tail?
The next generation
We've arrived just at the right time: the eggs are starting to hatch. But what is that breaking out of the shell… does that look like a reptilian tail? Who might have laid the eggs? Do you think what's inside will be friendly and need caring for?
It's a scorcher!
Bright rivers of lava flow through the channels of rock. Clearly we are deep inside the earth, perhaps inside a volcano. Why might the owner have chosen this location as a home?
Knight's folly
The scattered pieces of armour might hint at the many adventurers who have tried to beat the dragon and steal its treasure. But what really happened to those knights? Did they simply strip off their armour because it was too hot?
Don't forget…
Subscribers can also access the other through the keyhole interactive resources - Woodland den, the Witch's cabin and the Ice Queen's grotto - by clicking on 'find a resource'.
Stairway to heaven
Is that a light at the end of the tunnel? Could it lead to the outside world or is it something else – perhaps light reflected from a mirror or the beam from a giant torch. Are those stairs we can see, chiselled into the stone? Who made them, and why?