Revel in the spirit of Christmas with this fantastic, festive rock 'n' roll song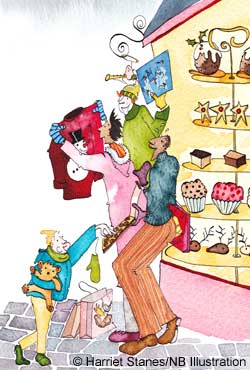 ONLINE EXTRAS

Download a fantastic audio poster of the Christmas song 'Rock Around the Shops' and a Words on Screen® download — great to use in an assembly! Plus, you can download the lyrics and score sheet, too.
'Rock Around The Shops' (taken from Songs for Every Christmas and A Cracking Christmas by Mark and Helen Johnson) is a festive favourite from Out of the Ark Music (www.outoftheark.com). It's a full-on rock 'n' roll song, with bags of scope for simple, high-energy choreography. Here are a few suggestions to enjoy using the song…
Activities
1. Set the scene
It's always good to talk about the lyrics/key themes before embarking on learning any new song. Ask the children to describe what it's like to go shopping at Christmas. What about when it's last minute and you're in a hurry to find a present for somebody? Think atmosphere and emotion and encourage as many descriptive words as possible. What do people look like when they're 'going crazy' at the shops? Talk about choosing presents for people. What people are easy/hard to buy for? Why?
2. Learn the song
Use the Words on Screen® download (FREE to all readers), to learn the song together. This versatile lyric projection system will allow you to pause, rewind, skip to the next verse and work with a vocal or instrumental version of the track. (It's an innovative and flexible system that makes the learning and performing of songs an easy and enjoyable process.)
Have fun talking diction! All songs benefit from clarity of diction, but like any with a lot of words, this one will be considerably more rewarding with a little extra effort. Look at the lyrics in the chorus. Identify all the accented words (can't/stop/pop/shop/close/rocking/shops/drop/time/home). Read the chorus together, slowly, with an exaggerated amount of diction. Watch each others' mouths as you aim for the most 'ex-treme-clar-i-ty-poss-i-ble'! Then try it spoken up to speed with the same clarity.
3. Add some moves…
Given sufficient space, let the children demonstrate what type of 'moves' they would expect to be performed to music of this kind. Experiment to find some fun hand moves to 'stage' the song. Get the children working in pairs/groups to develop a 'hand jive' (hand clapping, thigh slapping) that they think suits the song. How do they contrast moves between the verse and chorus?
Use the instrumental chorus (after verse 5) to demonstrate their 'routines'. Making every action clear and confident will enhance the dramatic effect considerably.
Introduce some very simple props to add some more visual fun: hats, scarves, shopping bags, baskets, till receipt rolls. Find something to match the present that is mentioned in verses three to five – bargain for Uncle Marvin, a box of chocolates.
4. ...And some percussion
This is a 'busy' song in every sense of the word, so you won't want to over do the percussion or it'll become rather messy. You might like to try the following ideas:
For the chorus, try using maracas/shakers – follow the basic four-beat pattern, (shake to the right on every upper case bold word, and shake to the left for the lower case bold words below. 'Lean' into the beats that fall on the right, for emphasis):
CAN'T afford to STOP, got to POP into a SHOP before they CLOSE, I'm ROCKing round the SHOPS 'til I DROP and it's TIME to go hOME
5. For the verses
You will need to find a xylophone or wooden blocks, with the notes G# and G (a semi-tone apart). Listen out for the saxophone phrase that is played each time after both the first and second lines of the verse (after 'going on' and 'to be done'). Get the children to clap the rhythm first, and then choose just a few who can mirror it with ease to play the phrase on the tuned percussion. (If you listen to verse three or four this phrase has lyrics added to it – 'We're shopping, high street hopping'.)
6. And finally…
There's some lovely potential for valuable and fun language work from this song: Look at the rhymes/near rhymes in the song verses – 'bargain for Uncle Marvin'/'record for Aunty Ethel'. Whose names in the class would rhyme with which presents? Try putting it all together to perform the song with all the props, hand jives, clarity and gusto you can muster!