School visits: Discover more at Discover Wistlandpound
23 November 2009
Add to My Folder
Looking for inspiration in planning your school visits? A new exciting educational programme, aimed at Key Stages 1 and 2, comes to Devon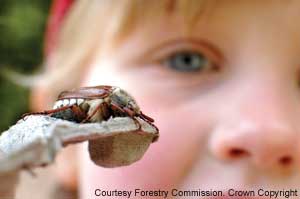 Curriculum benefits
What can a trip to Discover Wistlandpound mean for you? Matching resources with curriculum objectives are just a few of the examples of the unique learning experiences available.
1. Changing times
In this unique history activity, children will be given the chance to learn what life used to be like living and working at Wistlandpound and the changes that have occurred since 1948. They will be able to make comparisons with life now, develop fieldwork and research skills and develop their listening and analytical skills. On a guided tour of Wistlandpound, children will investigate a number of different roles, such as farmers, foresters and train drivers, and see how their lives would have differed from the present day. They will be given the chance to dress and up and 'play' the roles and will be asked to complete a compare and contrast activity sheet. They will also be given the chance to play 1950s children's games, write a make-believe historic news article and make a 1950s-style craft.
2. From source to sink
Children will be given the chance to investigate the processes water goes through on its journey from the source to our seas and sinks. Focusing on reservoirs as storage they will learn about the water treatment process and water cycle, while considering the impact of their own water usage. The children will discover how many tributaries flow into the Wistlandpound reservoir, what they are called and how fast the water flows.
3. Minibeast bonanza
Having diverse habitats in close proximity allow for highly stimulating sessions and offer a chance for children to learn all about the different invertebrates at Wistlandpound. Armed with bug pots and recording sheets, they will get to go on a supervised bug hunt and record their results. They will get the chance to compare and contrast these creatures and their habitats.
Tucked away on the edge of Exmoor, Discover Wistlandpound is a small reservoir surrounded by a ribbon of forest. It is a partnership project between the Calvert Trust Exmoor, South West Lakes Trust and the Forestry Commission. The site has a range of facilities that people of all abilities can enjoy, including trails, fitness equipment, a bird hide and a Discovery Centre. Via the Calvert Trust Exmoor, the site has been successfully running residential educational courses for groups with disabilities since 1996.
Exciting education
Building on this success, Discover Wistlandpound is now developing its offering further with an exciting new educational programme aimed at Key Stage 1 and 2 children.
Earlier this year, a dedicated Discover Wistlandpound manager, Nicola Yeo, was employed to develop a comprehensive package of both day and residential trips aimed at schools. She says: 'Discover Wistlandpound is a fantastic resource that has been successfully managed as an activity centre for people with disabilities since 1996. However, the partnership recognised that the site had further potential and would also be the ideal destination for mainstream school visits. This was where I came in. 'I have worked closely with the expert teams of all the site partners to develop a range of activities that not only support the National Curriculum, but also offer a unique learning experience to children. We consulted with teachers throughout the process to ensure that our activities fully support their learning objectives in a fun and engaging way that will appeal to their children.'
Discover Wistlandpound has been delivering this newly developed programme since September and so far the feedback has been overwhelmingly positive.
Programmes are individually tailored from 12 educational sessions for day visits and 11 activity sessions that can be included in residential visits from bushcraft and natural art to climbing, horse riding and archery. For more information about what is available, contact Nicola Yeo on 01598 763706. Alternatively, you can visit the website: www.discoverwistlandpound.org.uk
In your area
The Forestry Commission offers a range of learning opportunities across the country. Popular activities include shelter building, minibeast hunts, sensory games and orienteering. To find out what's available in your area, visit www.forestry.gov.uk and click on 'Woodlands for Learning'.
The Calvert Trust also has facilities based at Keswick in Cumbria and Kielder Water in Northumberland, providing outdoor activity holidays for disabled people. Visit www.calvert-trust.org.uk for more information.