Have you ever wondered what it takes to put together an issue of Child Education PLUS? Find out what happened when Julie Wilson, a teacher working in Scotland joined the Child Ed team.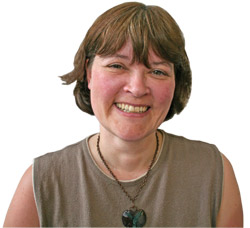 Meet this year's Child Education PLUS Guest Editor, Julie Wilson
Every year Child Education PLUS invites teachers to apply for the chance to guest edit their own issue.
This year, we were delighted to offer Julie Wilson, an enthusiastic teacher working in Scotland, the chance to work with us to create her own special edition of Child Education PLUS.
Julie joined us at the start of her summer break and we spent two days teaching her about how we make our magazines. She taught us a great deal too! Every Guest Editor that we welcome through our doors offers us a unique insight into what it means to be a teacher and how we can improve the support we offer.
Having a teacher in the office was too good an opportunity to miss. We decided to let Julie in on our plans to launch a new website and we couldn't wait to hear what she thought.
Julie had lots of ideas and suggestions about the way in which we could support teachers. We hope you won't be disappointed.
We first met Julie in the summer – so much has happened since then! She has been working with the team to plan and write her issue of the magazine. She has also contributed to our plans for online content. Julie's issue of Child Education PLUS is out in November. Subscribers will be sent this issue automatically. If you don't subscibe you can still buy this issue at your high street newsagent.