Managing even the most difficult of parents can be child's play with these top tips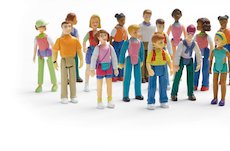 Image © Rob Belknap/www.istockphoto.com
Although the work of a teacher is mainly in the classroom with the children, parents come as an essential part of the package. Many are supportive, trusting the class teacher as a professional and the school as an organisation. When there are positive partnerships between parents and schools, this boosts the chances of educational success for the children. However, unfortunately, a minority of parents may cause difficulties and fail to support either you or their child. (Please note: in this article the word 'parent' means the person who has parental responsibility for the child.)
When there are positive partnerships between parents and schools, this boosts the chances of educational success for the children
The 'perfect parent'
Consider what a 'perfect parent' would look like to help you encourage these attributes in any 'less than perfect' ones that you have. The 'perfect parent' would:
bring up their child to understand boundaries, to enjoy learning, to be independent and to behave appropriately
support the work that you do in class, for instance, by reading with their child at home, and ensuring that homework is done on time
be happy to volunteer, whether to assist in class or to do some fundraising for the school
trust you to do the right things for their child, but also understand that you are human and that you will make mistakes.
Drop-off/pick-up time
Difficulties with parents often arise when they drop off or collect their children. You want to be approachable so that parents come to you with any concerns. However, your main priority is to get the children organised. If parents keep grabbing you for a 'quick chat', which develops into an extended conversation, take the following action.
As a teacher:
Be busy when parents arrive. If you're reading a book with a child, or setting up tables for activities, you're much less likely to be cornered by a chatty parent.
Set specific tasks for parents to do when they arrive with their children, such as the changing of reading books. This gives them a sense of focus and purpose.
Have a system whereby, if parents have a concern that they would like to discuss in more detail, they can book a meeting with you at a mutually convenient time.
Invite parents into your classroom for specific occasions, for example, when you want to show off the class' hard work.
Maintain a dialogue with parents through reading logs or via home-school diaries.
As a school:
Consider your approach to morning drop-off. Do you ask parents to leave their children in the playground or bring them into the classroom? Is your current approach the best one for your teachers?
Ensure you support teachers with concerns about specific parents. If you think a parent might become aggressive, ensure the teacher is never left alone with them.
Clarify your school policy about how parents should behave when they are on school property. Expect the same standards from parents as you do from children.
Know your legal position. A Manchester headteacher recently warned parents that swearing would lead to them being banned from the school premises (under Section 547 of the Education Act 1996). For a summary, see www.teachernet.gov.uk/wholeschool/healthandsafety/schoolsecurity/faqs
Partnerships with parents
Building strong partnerships with parents is essential and will benefit you, your school, the parents and, of course, the children. Look for positive ways to build these partnerships such as:
arrange home visits to gain an understanding of children's backgrounds and to help them settle into school
provide plenty of chances for parents to come into the school for positive purposes (assemblies, shows, sports events, displays, and so on)
be clear about how and when parents can support you and the school throughout the academic year
make sure that you reach the more reluctant parents or those who cannot access services easily (for example, print out signs in different languages, if possible)
have a parent liaison worker – someone parents can approach informally as a link between them and the school
host events to support parents (for example, training sessions for helping children learn to read or sessions to boost basic maths or

ICT

skills among parents)
have events specifically for fathers (who are typically less involved in school) to boost their role and profile.
Parent consultations
When the time for parents' evening arrives, there may be some parents that you dread having to meet. Have a clear plan in place to ensure the consultations run smoothly.
Think safety first – if the consultations take place in your classroom, ensure that you are not left alone with a parent.
Keep your door open and have a plan in case of emergencies.
Have a set timetable. Bring the meeting to a close by standing up and saying Do you have any questions before we finish?
If there are a number of difficult parents at your school, hold your consultations in the hall with all the staff together and your headteacher close at hand.
Parent profiles
Recognising different types of parents and knowing how best to deal with them can make all the difference to the smooth running of your classroom.
The intrusive parent: This parent thinks the classroom is theirs. They are the first into your room in the mornings and ask endless questions about the children's activities. They are also usually crying out to get involved, so utilise this to your advantage by suggesting volunteer activities that they could do. With this type of parent in particular, have faith in your own professional judgement – don't feel that you have to justify every decision you make. If you do experience difficult situations, refer this parent to those higher up the managerial ladder to help support and clarify your decisions.
The chaotic parent: This parent habitually turns up late to collect their child from school. Their child is often sent in without their reading folder, PE kit or correct uniform. Be clear and firm with 'chaotic parents' about what you expect, just as you are with the children. Talk to the parent about the importance of modelling good behaviour. You could also encourage the child to become more independent by remembering their own equipment. If necessary, consult with your Child Protection Officer (CPO) if you suspect a wider issue.
:* This parent is loud and intimidating, and any complaint about their child leads to an angry response, meaning you're loathe to approach them. Use the same strategies that you would use with an angry child. Breathe deeply, stay calm and use an unemotional tone of voice to defuse the situation. Avoid getting trapped alone with them by ensuring a member of senior management is available at drop-off and pick-up times, and during any meetings.