The
BIG

education issue: Reciprocal reading

21 December 2009

Add to My Folder

This item has 2 stars

of a maximum 5

Rated 2/5 from 3 ratings (Write a review)
Helen Freeman looks at the benefits of reciprocal reading with literacy specialist, Sarah Snashall.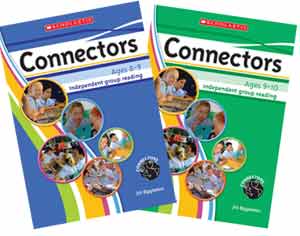 Two of the Connectors books — the KS2 non-fiction reading scheme that uses reciprocal reading techniques to encourage children to develop comprehension skills
What is reciprocal reading?
Reciprocal reading is a method of teaching comprehension which explicitly teaches strategies for predicting, clarifying, questioning and summarising. It was originally described by Palinscar and Brown in the 1980s in the US, but has been adopted worldwide.
Reciprocal teaching has been shown to increase both reading and listening comprehension, and has demonstrated that learners transfer their learning into other contexts.
How does it differ from other comprehension/speaking and listening strategies?
Many comprehension exercises are taught and practised through writing answers to pre-prepared questions. The reciprocal teaching method encourages children to ask questions of the text themselves and to answer and build on the questions of their peers. Asking questions and peer discussion can be a powerful learning experience and requires a higher level of understanding and engagement with the text.
Speaking and listening skills are central to reciprocal reading. Speaking and listening development is crucial for creative and critical thinking. The reciprocal teaching approach gives children the opportunity to practise speaking and listening skills in a non-threatening environment.
What are the benefits to the teacher?
When the children are comfortable with their group and the process, they should be able to work independently of the teacher. This allows the teacher to work with other groups, confident that the children are working on a meaningful task.
What are the benefits for the children?
Reciprocal reading is framed in collaborative and cooperative learning. Through active collaboration children support and extend each others' ideas. They help each other to think and challenge each others' thinking. When children work together, interacting and motivating each other to interpret, analyse, evaluate and make connections, a powerful learning experience can ensue. This is done in a cooperative atmosphere where social learning, listening to each other, learning to take your turn and build on what others have said are valued. Developing these skills builds confidence and self-esteem. The children learn that their opinions about a text are important.
The benefits in a nutshell
Reciprocal reading will benefit the children by:
Increasing speaking and listening skills through discussion and listening to others.
Developing comprehension strategies.
Increasing opportunitites for children to ask and answer their own questions.
Enriching vocabulary with high-interest words.
Encouraging cooperative learning: sharing, participating and valuing others.
Developing confidence in taking a leadership role.
Encouraging perseverance and risk-taking.
Stimulating interest in a variety of topics.
Should this approach be used instead of or in addition to other comprehension /speaking and listening strategies?
As with any strategy, the reciprocal reading strategy should be combined with a variety of other comprehension and speaking and listening activities, such as small group reading activities, guided reading, literature circles, independent reading, maintaining a reading journal and so on.
Is there anyone I can talk to that has tried this method so that I can fully understand how it works in the classroom?
We visited a school in Birmingham that had been using reciprocal reading. Take a look at the Video, 'Reciprocal reading and the Connectors scheme' to hear their experiences of this approach.
Why does this approach to reading seem to involve using books with such obscure subject matter?
For children to successfully be able to practise their comprehension skills within a meaningful discussion, they need to be given texts to work with that are engaging and at the right level for their reading age, and length for the time available. The texts also need to cover a subject that intrigues the children enough to want to ask questions, have enough intriguing information in it in order to generate queries but also be of a subject unknown to anyone in the group.
What do I need to get started? Do I need to be trained in this approach or do I need to invest in resources?
Finding the right texts to use is the biggest challenge for the teacher. When the texts have been identified, the comprehension strategies do need to be taught and practised before the programme can be carried out. The children also need to be able to work independently of the teacher. Therefore the teacher should model the strategies in shared and guided reading, allowing time for the children to practise. Time should be spent carrying out activities that improve the questions that the children ask and the children should be reminded about the conventions of group discussion.
Visit www.scholastic.co.uk/childedplus for a great offer on the Connectors series (see picture).