Boost health and wellbeing in the New Year with some tutti fruity D&T and PE activities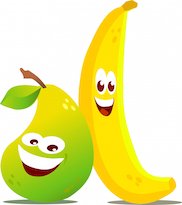 Image © GeerArt /www.stockxpert.com
Fresh 'n' funky
Discuss the children's favourite foods and any restaurants that they have visited. Remind your class that no food is 'bad' – all food is fine in moderation and when combined with an active lifestyle. By listening to others and sharing opinions, children may be introduced to foods that they haven't heard of or experienced before. Creating a buzz about different foods is the first step to promoting a balanced and varied diet!
Following on from the idea of creating a buzz about food, tell the children to imagine that they are chefs in a funky new restaurant called Le Funk opening in your town. The head chef, Tom Ketchup, wants some new and exciting healthy dishes for the restaurant's opening night. He's asked your class to create a healthy pudding option in the form of 'Funky fruity kebabs' to serve to customers. Ask the children to work in groups, and provide them with a wide selection of different fruits, diced into small enough pieces to be able to fit four or five on a cocktail stick.
Try to provide a mixture of familiar fruits such as grapes, strawberries and bananas, with more exotic choices such as papaya, mango and blueberries. Firmer fruits obviously work best, and bear in mind that apples will turn brown quickly once cut. (Note: Check for dietary requirements and allergies/intolerances first.)
When the children have finished making their 'Funky fruity kebabs', help them to take photos of their culinary creations, upload them on to the computer and add text to list/describe the ingredients. Encourage them to elaborate on their descriptions, such as 'gorgeous grapes', 'scrummy strawberries' and 'cool kiwis'. The images and text could then be printed out and used to create bright menus for the restaurant opening.
Afterwards, let the children try their fruity kebabs. You could provide small pots of natural yogurt or honey to dip the kebabs into. Do the children think that their healthy puddings will be a success in Tom Ketchup's new restaurant? Which were their favourite fruit combos?
Fast fruits
Talk to the children about how keeping active and taking regular exercise is important for a healthy body. Hold a class discussion about all the different types of exercise the children take, both in school and at home. Remind the class that walking is also fantastic exercise so those children who are able to walk to school are very lucky!
In the PE hall, divide the class into teams of three and name each child in the teams Apple, Pear or Orange (or Mango, Coconut and Banana if you're feeling exotic!). Tell the children to form one big circle, with everyone standing next to their team members. Place a marker (for example, a cone, beanbag or hoop) directly behind each team, and a larger collection of items (beanbags, for example) in the middle of the circle.
Tell the children that when you call out one of the fruits, those children must run all around the edge of the circle until they get back to their team (at their marker). At that point, they must run into the centre of the circle, grab a beanbag and run back to join their team members, placing their beanbag on the floor. Repeat the game so that every child gets a few turns at dashing around the circle. Tell the children to listen out in case you call out two fruit names at once!
After the game, remind the children that a healthy and balanced diet full of fruit, salad and vegetables, carbohydrates, protein and some fats and sugars gives our bodies energy so that we can enjoy active games like 'Fast fruits'. Reward the children's fruity efforts from the activity above, as well as their participation in the 'Fast fruits' game, with our Healthy eating badges.