Discover how this popular fairytale can inspire a whole unit of work!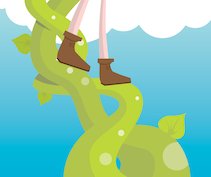 Image © Scholastic Ltd
Magic beans, a golden kingdom and a burly giant — who could resist a fantastic cross-curricular creative topic on 'Jack and the Beanstalk'? There are loads of activities in our creative topic covering literacy, numeracy and science – not to mention some of the more creative areas of the curriculum!
We've also got a brilliant 'Jack and the Beanstalk' illustrated storyboard poster—with an interactive version available for subscribers, too – so that children can practice their sequencing and storytelling skills with a fun hands-on resource. There are also three fun 'Jack and the Beanstalk'-themed activity sheets available, including an entertaining poem about the traditional tale from an unusual point of view!