Create your own Burns Night poems with these fun ideas from Paul Cookson.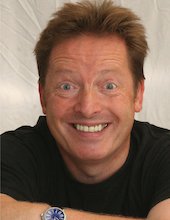 Photo © Julie Dawn Thomas
Burns Night is a celebration of Scottish Poet Robert Burns. Some of his more famous poems are read out and there is a traditional Scottish feast – including haggis.
Let's think about starting points for children writing their own poems …
I always think that ideas are the most important thing when it comes to getting started. Then it's a case of finding the idea that you like best and seeing where those ideas take you. Have fun, be imaginative…
So, here are a few to get you started …
1. Haggis recipes
Haggis is a funny word – and a funny food too – full of strange and weird and wonderful ingredients.
So, why not invent a strange mixture of foods – and other things(?!) – to go into the weirdest haggis ever … Make it into a list poem.
The best things to stuff a haggis with
The worst things to put in a haggis
The strangest things found inside a haggis
2. Monster mayhem
Haggis also sounds like a creature eg, Beware of the haggis, Revenge of the Vampire Haggis Why not make a poem about this strange Scottish monster? Ask a few questions such as:
Where does it live?
When does it come out?
Who sees it?
What does it sound like? What kind of noises does it make?
How does it move?
What does it eat?
What does it drink?
What does it feel like?
What does it look like?
What does it do when it has come out?
How do we turn these answers into a poem? Here are a few ways …
1. Read them out from 1 – 10, eg,
It lives in the mountains
comes out every night when the moon is full.
it is only seen by small children looking out of their bedroom windows
and it sounds like a thousand mad bagpipes…
2. Change the order round … so,
It drinks left over whisky
every full moon
and sounds like a thousand mad bagpipes squealing…
3. Repeat the lines back to front …
It lives in the mountains
In the mountains it lives
It comes out when the moon is full
When the moon is full – out it comes…
4. Use repetition…
The Curse of the Vampire Haggis
Every single Burns Night
The Curse of the Vampire Haggis
Sounds like a thousand bagpipes
The Curse of the Vampire Haggis
Roaming round the mountains…
Always read the poems out loud. Get the sound of the words, the feel of the words. Once you say them out loud you will know whether they work or not. That will help you in the editing/redrafting.
Sometimes, writing in phrases rather than sentences works, eg:.
in the mountains
out it comes
full moon
a thousand bagpipes scream …
3. Title inspiration
You could look for starting points with potential titles …
Don't let dad cook the Burns Night meal: Make a list of reasons why
Where did mum leave the haggis?
When brother played football with the neeps and tatties…
I'm sure you can think of lots of funny/cartoon situations involving the food and drink etc.
4. Puns and Plays on words
Burns Night: What gets burnt? Who burns it? How?
Robert burns the chips
Robert burns the peas
5. Celebrate other poets
Instead of Robert Burns – why not celebrate another poet? Roger McGough, Michael Rosen, Roald Dahl, Benjamin Zephaniah… (
Ed's suggestion – how about Paul Cookson!?
)
You could look at where they come from and invent some traditions related to that area.
What food would be suitable?
What poems would you read out of theirs?
Why not write some poems in the style of these poets to celebrate their day?
Don't forget – whatever you do, make it fun!