Educate children about Poland's customs and traditions with our cross-curricular activities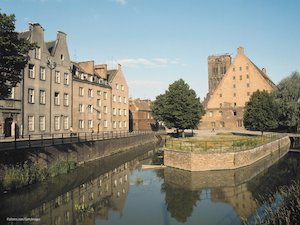 With around one in seven children in UK primaries speaking English as a second language, finding ways to engage EAL children is a consideration for many teachers. Taking a cross-curricular look at countries such as Poland is a great way to do this. As well as offering all children the chance to learn about the traditions of another country, EAL children can be called on as 'experts' and asked to provide first-hand evidence of life in their home country.

Download our Poster, 'Poland' to introduce children to the country.
The following activities are centred around some of the most well-known Polish customs and encompass learning in subjects including D&T, geography, literacy and art. If you do not have any Polish children in your class (or even if you do), you could link up with a school abroad to help consolidate learning. Despite a turbulent history and communist past, the strength and unity of Poland's people and stubborn resistance by the Catholic Church have ensured that many customs continue to flourish. Many are linked to important religious festivals, like Easter and Christmas. Others, including the tradition of name day parties, take place throughout the year.
Activities
1. Introduction (geography/ICT)
Display the Poster, 'Poland' and greet the children with dzien dobry (djen do-bri – 'hello' in Polish). Explain to the class that they are going to be finding out about Poland. Invite the children to share any knowledge they have about the country; if there are any Polish children in your class then this is a great opportunity for them to input. Next, invite the children, alone or in small groups, to think of five things that they would like to find out about Poland (for example, its currency, language, location in the world, food, flag). Once they've discovered the answers to their questions, by researching on the internet or using reference books, ask the children to create fact cards displaying each one. These could be done either by hand or using ICT. Encourage the children to be as creative as they like and to supplement the facts with images and drawings. Add the fact cards to a map of Poland to create the start of a display.
2. Name days (geography/
PSHE

)

Explain that different countries in the world have their own customs and traditions. Can the children think of any British customs (Burns' Night, Christmas, Valentine's Day) or, if there are any EAL children in your class, customs from their own countries? Tell the children that in Poland, as well as a birthday, everyone also has a name day. Explain that the tradition of name days goes back to the early years of the Catholic church when people began to name their children after saints. A different saint is celebrated on each day in the Polish calendar. A person's name day is the day on which a saint, who they share their name with, is celebrated. Explain that saints are often thought to offer special protection to different things – such as particular groups of people, animals or occupations.

Invite the children to research name days. Ask: How do Polish children celebrate their name day? What sort of gifts do they receive? What type of food do they eat? If there are any Polish children in your class, they can share the date of their name day and provide information on what they do to celebrate it.

As a further activity, challenge the children to discuss what they think a saint should give special protection to. Ideas could include: children who are bullied, lonely, who don't have enough food, the environment, endangered animals, and so on. The children should consider what challenges these groups/things face and what could be done to help them.
3. Fat Thursday (D&T)
In the UK, most children are familiar with Shrove Tuesday and the tradition of pancakes topped with sugar and lemon. Poles celebrate the end of 'carnival', the period between New Year and Lent, by eating sweet things on the last Thursday before Ash Wednesday. Ask the children to research why they do this. The most popular foods are doughnuts or paczki (ponch-kee). Sometimes, faworki (fa-vor-kee) (also popular at New Year in Poland), thin pastries in the shape of bows covered with icing sugar, are also eaten.
As a class, have a go at making your own faworki. Mix 250g flour, five egg yolks, two tablespoons of sour cream, one tablespoon of sugar and one tablespoon of vinegar together. Knead until hard and then beat with a rolling pin and leave for 30 minutes. Roll the dough out thinly and cut into strips. Cut a slit in each strip and pass the ends through to make a twisted ribbon shape. Fry in hot oil until golden (note: this should be done by an adult). Place on kitchen roll and then sprinkle with icing sugar.
4. Easter (art/D&T)
While Easter in a lot of countries is often dominated by the chocolate egg, in Poland many traditions that have long associations with the church are still alive today. For example, on Palm Sunday, Poles carry colourful palms to church, made from a branch decorated with dried flowers and ribbons, to celebrate Christ's entry into Jerusalem.
Invite the children to make their own version of a Polish palm. First, invite them to find images of Polish palms on the internet. Then, take the class outside to collect branches for their palm base, and then encourage them to make observational drawings of any flowers (pansies, snowdrops) that they can find. Back in the classroom, invite the children to think about what materials they could use to replicate their flower drawings in 3D. Allow them to use any process they want, but encourage them to think about the practicalities of attaching their 3D flowers to the branch. For example, modelling clay would make an impressive flower, but it may be too heavy to remain on the stick. (Possible ideas include: papier mâché, simple stitched and stuffed felt flowers, wool wrapped around card, tissue paper.) Add the palms to your Poland display, along with an explanation of what they are.
5. Christmas (literacy)
Invite the class to suggest things that they associate with Christmas in the UK and create a list on your whiteboard. Next, if you have any Polish children in your class, invite them to describe the differences between a typical British and Polish Christmas. Some of the differences include Father Christmas coming during the day on Christmas Eve, or Wigilia (vee-gee-lya), as the Poles call it. On Christmas Eve, a special supper consisting of 12 vegetarian dishes is eaten. Other notable features on Wigilia are sharing a wafer bread before the meal, placing hay under the table cloth and setting an extra place, just in case a poor traveller calls at the door.
Invite the children to write two recount texts in the form of diary entries. One should be written from the point of view of a child who celebrated Christmas in the UK and one from a child who celebrated it in Poland. They could conduct further research using reference books and the internet if they wish. Encourage them to plan out their diary entry before writing – considering its structure and language. Add the diary entries to your display if you wish.