... a place to catch up on staffroom chatter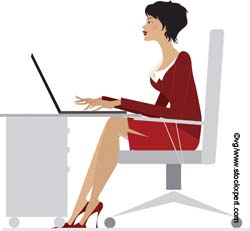 Mel Campbell — Year 6 teacher
'Tis the season to be jolly!
Embrace the festivities and spread a little magic this Christmas
Chestnuts roasting on an open fire, Jack Frost nipping at your nose…' Christmas is such a magical time for children, but for many teachers it can prove to be nothing more than hectic and stressful. Christmas lunches to organise, carol concerts and seasonal performances to rehearse, and keeping children on track in the classroom as the end of term approaches, are just some of the mammoth tasks that schools have to undertake on top of the usual planning, marking, and target setting and getting.
Spread a little happiness
While this may lead to many of us feeling more 'Bah humbug' than 'Ho, ho, ho', we must remember that this is the highlight of many children's calendars, and we should do all we can to keep in the Christmas spirit. Forget commercialism and give something this year that costs nothing – happiness. If you can make the children smile, chances are it will put a smile on your face, too, and make all the hard work worthwhile.
Make it memorable
In the past, Christmas time at school has seen me taking on the role of Jack-in-the-box for a Key Stage 2 Christmas play, orchestrating surprise staff performances for the children and organising class Christmas parties. Give a little extra of yourself this year and provide children with something that money cannot buy – fond memories of their time in school.
While I can't immerse myself in the yuletide festivities with my class this year, I will be experiencing something equally as precious at home – the first Christmas with my beautiful baby boy.
I hope that everyone has a truly merry Christmas this year, both in school and out.
John Coe considers the true nature of children and how they should be taught
I have looked back over the years that I have been writing this column. It wasn't planned but what has emerged is a recurring theme – an assertion of children, their true undeniable nature. What they are really like contrasted with the increasingly mechanistic systems favoured by the Government. I have no need to detail what I mean by mechanistic because teachers deal with it every day. The idea that learning is sequential and incremental and that it should progress from level to level over fixed intervals of time – what nonsense.
Let me tell you about two children. One is me, a ten-year-old in a London school. There we were, sitting in serried ranks facing the teacher who, armed with chalk and blackboard, told us 'things'. Needless to say, the desk tops were covered with marks made by children desperate to do something, anything, for themselves rather than merely listening. Now, if it was history I used to listen, but if it was arithmetic, necessary but boring, my attention soon wandered. I used to daydream. And are children any different these days?
'The desk tops were covered with marks made by children desperate to do something, anything, for themselves'
One day I was puzzling over something I had been told (not by a teacher). That the tunnels that carry the tube trains under London slope downwards away from a station and upwards towards the next station. (They do: it helps rapid acceleration and deceleration.) To deal with this idea I used my pencil, moving it backwards and forwards along the groove in the desk in front of me. My reverie, it was learning actually, was interrupted. I heard my name. I was being asked a question but had no idea of the answer or even what question had been asked.
The second child is a seven-year-old. He and his partner were making up story sums. Grouping and regrouping, not pieces of plastic but conkers, shiny russet globes, delicious to handle. The pair were learning to subtract and writing down the sums they had modelled. I looked over the boy's shoulder. He had written: 'I had five conkers. Leon had nine. He had four more than me and I didn't mind.' The 'I didn't mind' – the last three words – were the words of a child learning in a way that fitted him as a person and this is the part of primary education that I have been writing about for four years. It is the most important part of all.

John Coe — General Secretary of the National Association for Primary Education