Writing facts that describe the different features of a castle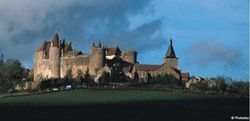 You will need
Books and posters showing different castle features – motte, bailey, portcullis, drawbridge, keep, round towers, moat, arrow loops and so on; enlarged and individual copies of the 'A castle history' sheet; scissors; glue; writing materials.
What to do
Display the 'A castle history' sheet and explain that it describes the history of Prince Charming's castle (as shown on the 'Fairytale buildings poster'). Read the text together and discuss each point. Why was the drawbridge repaired for the King's visit? Why do the children think a new gatehouse was built? What were arrow loops used for? Talk about which pieces of information are most interesting.
Now show the children pictures of different types of real castles, starting with an example of a simple motte and bailey (a castle on a mound with a courtyard surrounded by a fence). Point out features such as the moat, keep, drawbridge and portcullis. Explain to the children that the design of castles had to be changed as soldiers came up with better ways of attacking them. At first the towers were square, but round ones were better because they enabled the person in the tower to see all around. Talk about how the moat and drawbridge stopped people from entering the castle.
Working in small groups, ask the children to read the 'A castle history' sheet again and to choose which they think are the most important five facts. They can cut these out and stick them on to a piece of paper to make a fact sheet about the castle. More able children can write out their chosen facts in their own words.
Reception
Provide the children with a simplified version of the castle timeline. Ask them to choose a fact to illustrate and make the pictures into a class display.