A morning circle ritual for children to communicate their moods
You will need
Plastic eggs (or balls) in a variety of colours (see 'Out of the shell' activity); white 'feeling tree' (see photo below, or simply paint a branch white and 'plant' it in some sand in a tin).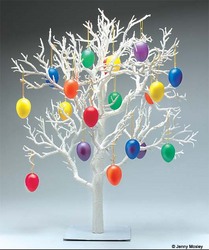 What to do
The following ritual can be used every morning at registration. It provides a quick and effective way for children to communicate how they are feeling. Before this can be incorporated into your routine, however, the children will need to have decided what mood each coloured egg will represent (see 'Out of the shell' activity).
When the children come into class they each choose a coloured egg/ball according to their mood, before sitting in their place for morning registration. When their name is called, each child replies 'Good morning, Miss, red (or blue, green etc) today'. They can then hang their egg on the 'feeling tree' or simply return it to the box.
This economical, informative ritual informs you of each child's current mood – particularly useful if your class contains a disruptive or troubled child. This information can then be acted on at discreet moments of the day. For example: 'I noticed that you used a blue egg today. Are you feeling sad about something?' Try to avoid 'why' questions – instead, provide opportunities for the children to talk about their feelings if they so wish. If a child wants to talk to you about their mood in a private setting, tell them they can give you a 'talking card' on which they have written their name, and that you will then find a suitable moment to chat with them.
If appropriate, general issues that come to light during the morning ritual can be explored during regular quality circle time meetings.
Reception
This ritual is equally effective for reception classes. Some children may be shy and prefer not to participate. Respect this choice until such time as they wish to join in.