At the Post Office
Add to My Folder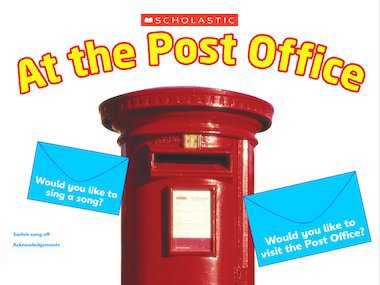 This interactive poster takes children on a journey – it shows them what happens when you write a letter and post it…covering everything from going to the post office to buy a stamp, to posting it and seeing where it goes next. Finally, the children can see the letter being posted through a letterbox and the delight on the recipient's face at receiving their letter.
If you are planning to use the interactive poster on a PC, the children will need to use the mouse to click on the images, sounds and question buttons. If you are planning to use the poster on an interactive whiteboard, simply touch the interactive whiteboard [if you're using a SMART board] or use your interactive whiteboard pen to touch the images and buttons. Simply click the arrows to take you through the poster.
Use the poster as a great introduction to role play – encourage speaking and listening by letting the children share their own experiences. Ask the children to close their eyes and listen to some of the sounds – for example, the sound of a letter dropping through a letterbox, the recorded voice saying 'Cashier number two please' – do they recognise the sounds? On the left-hand side of the interactive poster, you'll see an envelope – click here to listen to our song 'Knock, knock, knock'. Let the children listen and then you can all join in – the link will provide you with the words. The stop/start buttons will allow you to stop and start the music – and then you can click to return to the main poster.
Don't forget to make use of the role-play activities in the May 2006 issue of Child Education to accompany this interactive resource (see pages 33-36).
You may need Flash
To use this resource you need Adobe Flash installed on your computer. To get the latest player:
You may need to be an Administrator to install this.